Embracing seasonal changes with your primary class
Themed lessons and activity ideas to help you to make the most of the autumn months
While summer may have come and gone all too quickly, the arrival of autumn provides countless learning opportunities for your primary pupils. Dive into this collection of hand-picked seasonal lesson ideas to ensure you engage your class right up until winter.
General resources
Introduce or recap the main signs of autumn with this simple presentation, which can be used in class or as part of an assembly. As the season progresses, build on this understanding by tracking daily changes in the weather on this interactive chart.
If you're hoping to create an eye-catching display in your classroom, this header template is the perfect starting point. And why not make sure all work is fully on theme using this decorative writing paper in a variety of colourful designs?
 
KS1 resources
Support pupils as they practise adding to 20 with these autumn-styled printables, including a handy progression chart. Or, use this short poem as a stimulus for encouraging pupils to write and add their own verses about the things they can see and hear in the playground at this time of year. To make sure they've got to grips with seasonal spellings, why not also distribute this themed word mat?
Take a walk outside to get some inspiration for decorating these tree outlines. Pupils could make a collage from leaves they've collected, or use paint, pencils or chalk to create an autumnal atmosphere.
 
KS2 resources
Get started on an autumn topic with this taboo game, in which learners try to describe keywords without saying any of the forbidden terms. Similarly, this autumnal word puzzle offers an ideal introduction to thematic vocabulary.
Move onto this sensory poetry lesson and support students as they compose their own poem using differentiated resources.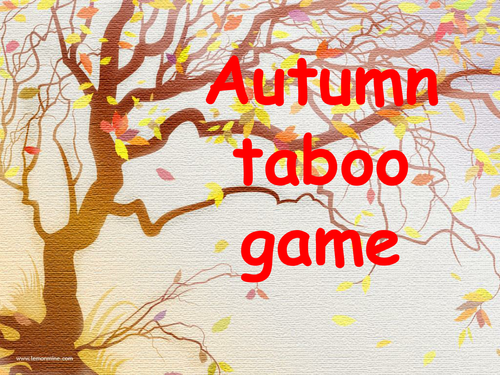 This is an Autumn themed version of the game, although I have other versions available aswell. There are different ways of playing this game. This is how I play it. I choose one child to come to front of class. They have their back to IWB. The rest of class have to describe the thing in red to them, without saying the words written in brown.
By
groov_e_chik
Another five minute filler for teachers. Embedded in this puzzle are ten words associated with Autumn and 100 other general vocabulary words. Full instructions, templates in colour and in black and white, a thematic vocabulary and an answer key are included. If you were one of the first 8 people to download this puzzle, you'll notice that the answer key was for another puzzle. Mea culpa. The correct key is included now.
By
Carlav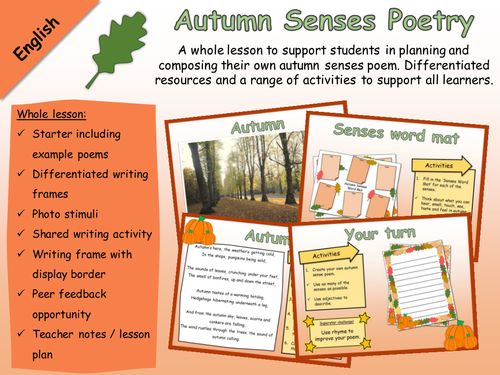 A whole lesson to support students in planning and composing their own autumn senses poem. Differentiated resources and a range of activities to support all learners.

Whole lesson:
Starter including example poems
Differentiated writing frames
Photo stimuli
Shared writing activity
Writing frame with display border
Peer feedback opportunity
Teacher notes / lesson plan
By
AcornTeachingResources