Get reading in Children's Book Week
Celebrate top authors and illustrators by bringing books to life in your classroom
Children's Book Week (18-25 August) exists to give teachers and librarians a chance to promote a love of books and reading through a variety of activities. This year, the theme is Escape to everywhere.
So, why not join in with your class? We've got a range of hand-picked lesson ideas to not only improve key literacy skills, but also develop cultural awareness and a wider understanding of the world.
Whole school resources
What better way to kick-start the celebrations than with this engaging treasure hunt based on this year's theme? Once your pupils have found a book to escape with, get them to send a postcard back to reality. On it, they can describe the time they've had with their favourite characters.
Celebrating books is as much about sharing them with others as it is about reading them. Ask students to write about their favourite books using these handy review templates for primary, upper primary and secondary classes. Similarly, this editable template is ideal for capturing pupils' opinions in a display-worthy format.
Primary resources
Ideal for guided reading, these versatile task cards suggest a range of activities that can be used before or after reading any fiction or non-fiction book. Or, why not develop learners' skills further through reciprocal reading? These structured role cards help to support the comprehension of any text.
For something more traditional, try this fully resourced Dreamtime lesson, which ultimately gets students retelling the stories in their own words. Similarly, use these task cards to encourage your class making connections and think more deeply as they reflect upon the dreaming legends.
A set of tasks for non-fiction and fiction texts that can be used to follow up on a guided reading session or help prepare for the next one. I have these laminated in sets in my folders so I can easily set my groups doing different tasks. Topics also included; non-fiction.
By
liz_alston2004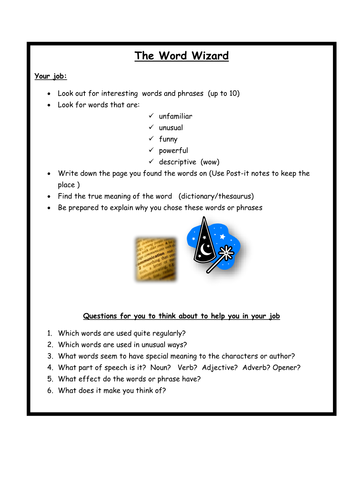 Reciprocal reading. A brief teacher's guide. A set of role cards to be laminated and used within reading group. Suitable/adaptable for a range of abilities
By
jlott1
Secondary resources
Complement the study of any novel with one of the activity suggestions in this comprehensive guide. Or, for something more specific, examine Louis Sachar's Holes in detail with help from this resource pack, containing chapter-by-chapter comprehension questions.
Older learners may prefer these thought-provoking tasks on Looking for Alibrandi by Melina Marchetta, or this analytical introduction to John Marden's Tomorrow, When the War Began, which uses de Bono's thinking hats.