Practical demonstrations for secondary science
Stimulate curiosity in your science classroom with these engaging demonstration ideas
Despite being criticised for their supposedly passive approach to developing scientific knowledge, teacher demonstrations are an ideal starting point for introducing new topics and tricky concepts in all three sciences. Not only do they tap into your students' natural curiosity, but they also give you a chance to show off your passion for the subject.
Here, we've brought together a selection of top practicals to help you to bring science to life in your classroom.
General demonstration ideas
Capture your students' attention using these top tips on how to make your classroom demonstrations as engaging as possible. On a similar theme, these inspiring resources include teacher-led practical demonstrations to capture students' attention, as well as advice on showmanship.
Interactive demonstration tools
Demonstrations do not have to be confined to the classroom. If your department is short on resources, other forms of media can work just as well. This collection of videos covers a wide range of teaching points across the chemistry curricula, while this revealing biology-focused programme offers a range of experiments relating to the human body.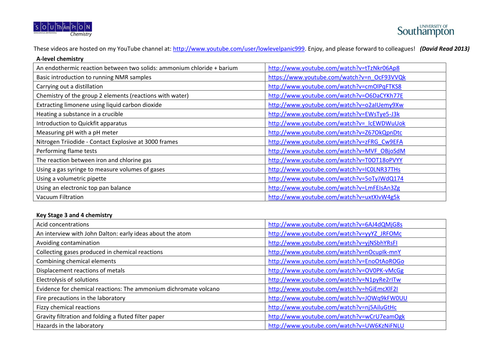 These are mainly for use in chemistry teaching (KS3 - 5), but there are a small number of biology and physics videos as well. This resource is a word document which lists the videos by title alongside a direct link to the file on YouTube. We have been making educational videos at the University of Southampton for the past 5 years, and we thought it was about time we made them readily available to teachers everywhere. All copyright is held by the University of Southampton, but do please feel free to share as widely as possible.
By
lowlevelpanic
The following programme contains biology experiments using animal organs and requires viewing prior to showing to students.

Dr Mark Loughlin, a molecular biologist, looks at some great biology demonstrations that relate to the human body and can provide the wow factor for pupils, without the need for expensive equipment. The first section of the programme on the digestive system starts at the Science Museum with Alexis Gilbert doing an explosive experiment to show how much energy is stored in icing sugar. He then uses a range of everyday household products to demonstrate the digestive process, all the way from 'gums to bums'. In the second section, on the circulatory system, Cathy Deakin at King Charles I School in Kidderminster performs a tracheotomy on a pig's entrails to inflate the lungs. Another less daunting experiment uses a trolley full of balloons, a leaf blower and a net, to simulate what would happen if blood did not clot. The third section, on the human brain, demonstrates some amazing illusions with experiments on reaction times and eye dominance.
By
Teachers TV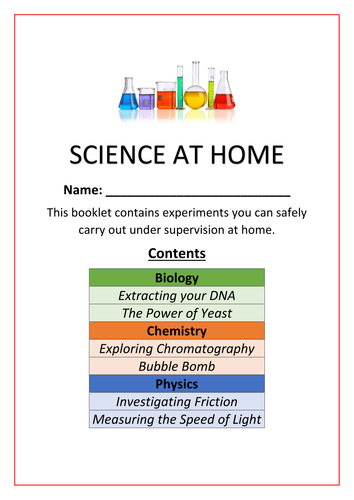 A booklet of experiments that students can complete under supervision at home. Booklet is designed to engage learners outside of the classroom. Contains six experiments across all three sciences, including the extraction of DNA, measuring the speed of light, and creating a bubble bomb. All experiments involve household items and chemicals.
By
aslawrenson