Primary English: Teaching non-fiction
Discover a whole new world of non-fiction texts with these introductory activities and lesson ideas
From newspapers to instructions, leaflets to autobiographies, non-fiction texts are a staple of everyday life. Yet, younger learners can find this genre a bit of a minefield! So, to help you introduce pupils to the wonderful world of non-fiction, we've selected some of our favourite lesson ideas and classroom activities. What are you waiting for?
Introductory activities
Non-fiction texts can come in many forms, but their rigid nature can sometimes make them feel inaccessible to younger learners. Help students recognise the different genres and consolidate their understanding using these toolkits, posters and example sheets.
Teaching ideas
Once pupils are familiar with the different areas of non-fiction writing, delve further into a variety of texts with these engaging lesson ideas. From reading circles to marking guidance, these resources will help you to tackle non-fiction topics with ease.
 
Engaging tasks
Ensure your learners are on track with these reading comprehensions and in-class exercises. Jam-packed with ideas and accessible subject matters, there's something to engage every student.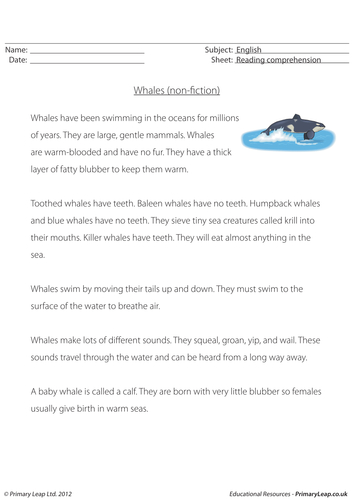 This reading comprehension includes interesting facts about whales. Students are asked to read through the passage and answer the accompanying study questions.
By
Primary Leap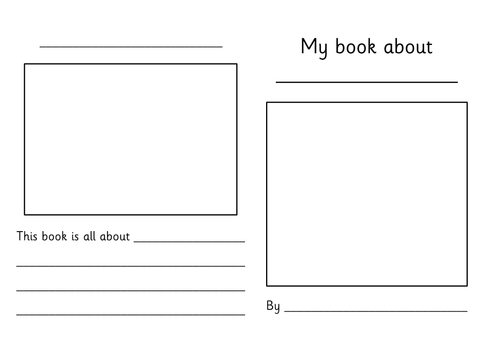 A writing frame/book for researching and writing about a country. Includes space for illustrations/sticking in pictures and space to write basic information on the country (currency, continent, capital city, language spoken)
By
choralsongster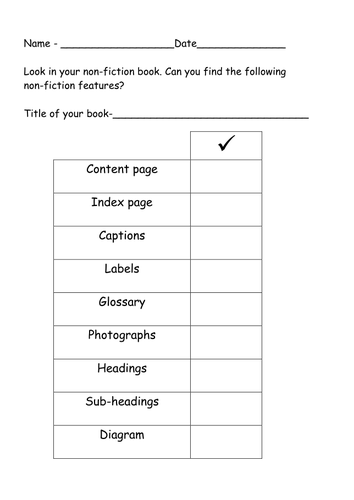 I used this checklist when doing a literacy focus on non-fiction books with my Year 1 children. It is a checklist of features for children to look for when looking at non-fiction books. I laminated some of these checklists and put them in the library for children to use.
By
ruthbentham