Start-of-year high school resources
Kick off the new year with these specially selected behavior management ideas and bell-ringer activities
Setting high expectations on the first day of school is essential for creating a collaborative learning environment that will last all year long. So, to make sure that your teacher toolkit is brimming with inspirational classroom management ideas, we've hand-picked the very best back-to-school resources to get you started.
Classroom management resources
Set high expectations for your students and make sure that you are consistently enforcing them with this ready-to-use behavior tracker, in which you can spot patterns and gather information to communicate to parents. If things aren't going to plan, take advantage of these classroom management warning cards, which will allow you to correct a behavior without embarrassing the student or letting it escalate. 
As effective classroom management is based on relationships, why not use this highly engaging ice-breaker resource at the start of term and throughout the year? And at times, the best thing you can do for some drama-filled high school classrooms is to calm down any unexpected situations by introducing a feeling of zen with help from this mindfulness course.
Easy to use positive behavior intervention support (PBIS) / classroom management tool that allows teachers to document student behavior performance from anywhere in the classroom and make notes for future reference. Download the preview to see how easy this resource is to use!
By
Teaching With Owls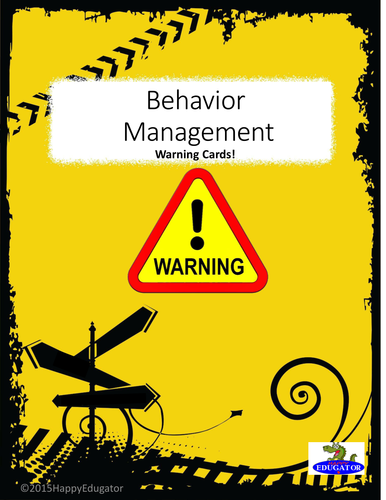 Behavior Management Warning Cards. Classroom management tool.. Slip quietly on a desk and don't stop teaching! Be prepared for the beginning of the year or anytime you need a behavior plan. Explain to your students when they come back to school at the beginning of the year that you will expect them to follow your classroom expectations. Give them examples of positive and negative behaviors Tell them that once you give a verbal warning, you expect the behavior to stop. If it does not, and you have to address the issue again, they will quietly, without disrupting instruction, be given a behavior warning card. Just put it on their desk and don't stop teaching! They must sign it, date it, and write the behavior they are being warned about on the back and return it to you. You keep the card for documentation, which is useful for parent conferences or in the event of an office referral. Includes a plain set without name and date if you wish to use repeatedly without documentation. Includes cards with place for name and date, blank cards with a line to write on that you can customize, Last Chance cards, Stop! cards, and Oops! cards...which you can use as you choose. Enjoy! - HappyEdugator
By
Happyedugator
Following the wild popularity of the Visual Writing Prompts Bundle comes **HYPOTHETICAL VISUAL ICE BREAKERS AND OPINION PROMPTS.**

Another evergreen and versatile resource with proven success with struggling or reluctant writers as well as being an excellent icebreaker for students and staff.

Everything is completely editable and absolutely ""NO PREP REQUIRED""

What you get
- Over 101 amazing photos each accompanied by a highly engaging hypothetical question for you to ponder.
- Advice and resources for students and teachers about maximising the bundles use in literacy other areas fo the curriculum.
- Teaching and assessment resources tailored to hypothetical questions.

The resource is broken into 5 unique areas
- What If?
- Icebreakers
- Would you rather?
- Hmmm??? That's a tough one
- Tough questions for young adults.

This resource is ever expanding, and as such you will receive all future upgrade for free.

**************************************************************************

LIKE WHAT YOU SEE?
For more creative ideas and new product updates, be sure to sign up for our EMAIL NEWSLETTER, and visit us on FACEBOOK to take part in our exclusive giveaways.

POPULAR PRODUCTS FROM INNOVATIVE TEACHING IDEAS
FULL YEAR VISUAL WRITING PROMPTS BUNDLE
110 Reading Activities Bundle
TEACHING DIGITAL TECHNOLOGIES & STEM
POETRY POWER PACK
GOOGLE SEARCH LIKE A BOSS
By
Innovativeteachingideas
Bell-ringers
Even if your students groan when you first introduce them, we know the stability and independence that comes with using bell-ringers is worth the initial uphill struggle. These are particularly handy in language lessons, as with the Spanish warm-ups in this colourful presentation and these English language activity sheets.
Get minds working hard from the second students enter the room with this collection of challenging riddles, suitable for the start of any lesson. Alternatively, encourage a more positive atmosphere by sharing these motivational quotes with your class.