Early years German resources: physical and character description
Keeping your class engaged with new and interesting classroom resources is vital in helping them reach their potential. With Tes Resources you'll never be short of teaching ideas. We have a range of tried and tested materials created by teachers for teachers, from early years through to A level.

Breathe new life into your lesson plans with our primary and secondary classroom resources. Whether you're looking for fun maths worksheets or brand new guided reading activities, we have thousands of free and premium resources for you to download. From early years to primary, you'll find phonics worksheets and numeracy games and all you need to revise for Sats. From secondary to post-16, we have everything from French lessons to algebra activities, as well as GCSE revision guides and more.
Read more
Physical and character description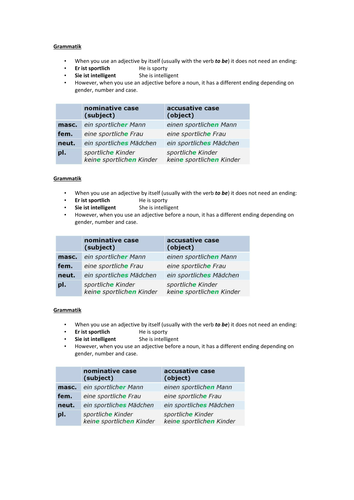 These resources teach students how to use adjectives with the nominative and accusative to describe people in German.
Here is an activity for all age ranges learning the different body parts. Print off the body parts cards and stick them around the room. Pupils get the skeleton that they have to label using the clues. Rewards can be given for quickest. Extension activity to find plurals in a dictionary. Enjoy!
A Bundle of our most popular KS3 Resource packs. Packs included: Die Grundlagen Meine Familie Die Ferien Das Haus
Taken from the wonderful website momes.net, here is a game of Who's Who to print. An excellent activity to have the students describe the images, work on adjectives and be creative as well!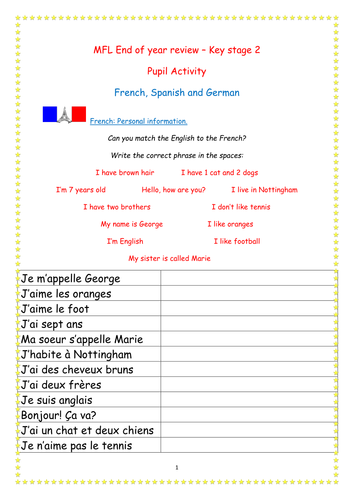 This document includes worksheets to fit your classes' needs in reviewing progress in French, Spanish and German - one of, or all three languages. This is the perfect review document to test progress in personal information, fitting in with the statutory requirement for Key Stage 2 languages. There is a self-assessment review page at the back also, and a 'just-for-fun' adjectives self-description activity in all three languages which can be adapted easily. Enjoy! #primary #primarylanguages #keystage2 #french #german #spanish #endofyearreview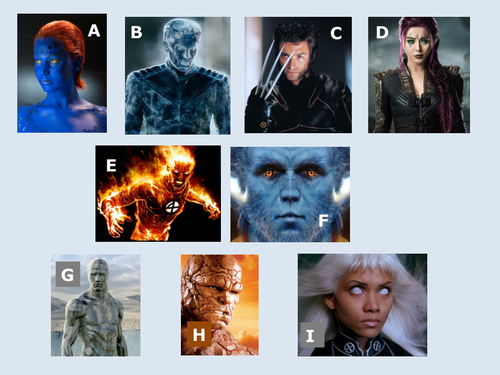 A single slide with images of Marvel heroes and characters for pair work. One students must describe the physical characteristics of a character and the other student must identify the character.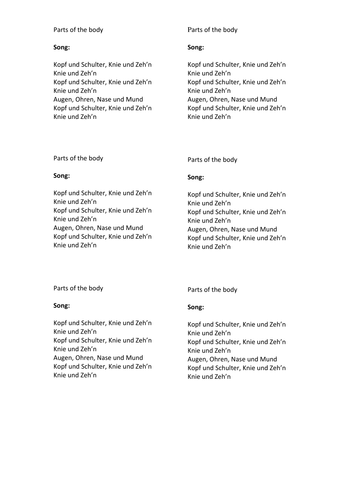 Great stirring starter -- or for waking them up in the middle of a lesson on parts of the body. The words to the song 'Kopf, Schulter, Knie und Zehen' in mini-format; six on a sheet to save paper. Keywords: Körper, Augen, Ohren, Nase, Mund,