Early years German resources: personal information
Keeping your class engaged with new and interesting classroom resources is vital in helping them reach their potential. With Tes Resources you'll never be short of teaching ideas. We have a range of tried and tested materials created by teachers for teachers, from early years through to A level.

Breathe new life into your lesson plans with our primary and secondary classroom resources. Whether you're looking for fun maths worksheets or brand new guided reading activities, we have thousands of free and premium resources for you to download. From early years to primary, you'll find phonics worksheets and numeracy games and all you need to revise for Sats. From secondary to post-16, we have everything from French lessons to algebra activities, as well as GCSE revision guides and more.
Read more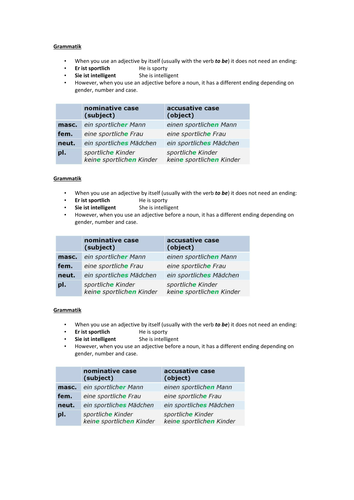 These resources teach students how to use adjectives with the nominative and accusative to describe people in German.
Here is an activity for all age ranges learning the different body parts. Print off the body parts cards and stick them around the room. Pupils get the skeleton that they have to label using the clues. Rewards can be given for quickest. Extension activity to find plurals in a dictionary. Enjoy!
Are you learning German? Are you looking for a fun way to learn German? I have developed a way to learn different languages based on my experience as an ESL teacher. This pack has 57 different settings for students to talk about in German. The worksheets themselves are in English and the students do need to translate the places and objects they see into German. At the end of the session, the students can play a fun game of word bingo to show they have mastered that day's vocabulary. Try it, it is a lot of fun for everyone!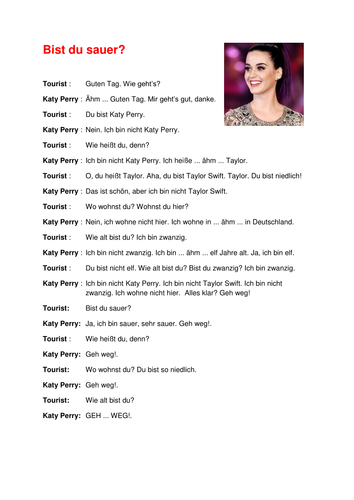 Dialogue / playscript for beginners, in which a persistent fan badgers Katy Perry for personal information. How are you? / What's your name? / Where do you live? / Where do you come from? / How old are you? / Are you angry?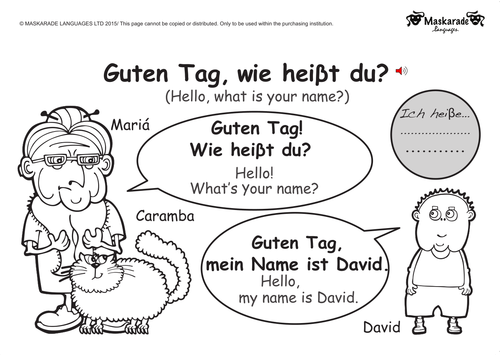 Printable activity worksheets to teach German about: • What's your name? • How old are you? • How are you? • Are you a boy or a girl? Nursery rhymes • Peekaboo, boo, boo • Meine Hand/ My Hand • Mein Finger geht im Kreise/ The Little Puppets Activity worksheets usable on whiteboards. Includes: AUDIO CONTENT To access audio use Adobe Reader and double click on the sound icon. Also available in French, Spanish and English (EAL/EFL)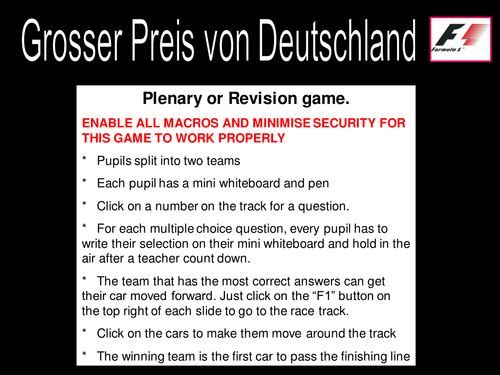 To celebrate the German F1 Grand Prix at the Hockenheimring I have created this interactive game for my German students. Enter your own questions and multiple choice answers and watch as two teams battle it out to be the first car past the finishing line. Possible instructions on the first slide. ENABLE ALL MACROS AND REDUCE SECURITY ON YOUR PC FOR THIS TO WORK PROPERLY. I will split my class up into two teams and give everybody a mini whiteboard. Pupils will write the answer of the question on their mini whiteboard and hold it up after my count down. The team with the most correct answers will be the team who's car will move around the screen (just click on the car) Enjoy, and I look forward to your feedback :)
Pictures to help introduce and practise asking and answering about ages using numbers 1 - 12.