Primary Afrikaans resources
Keeping your class engaged with new and interesting classroom resources is vital in helping them reach their potential. With Tes Resources you'll never be short of teaching ideas. We have a range of tried and tested materials created by teachers for teachers, from early years through to A level.

Breathe new life into your lesson plans with our primary and secondary classroom resources. Whether you're looking for fun maths worksheets or brand new guided reading activities, we have thousands of free and premium resources for you to download. From early years to primary, you'll find phonics worksheets and numeracy games and all you need to revise for Sats. From secondary to post-16, we have everything from French lessons to algebra activities, as well as GCSE revision guides and more.
Read more
A fantastic 22-page revision workbook on the reading exam on paper 1. The following is included: Paper 1 overview Reading tips and strategies Real EDUQAS sample exam Each question (1-5) has its own section Exemplar work Sample paragraphs Sample extracts / exams Student tasks Final exam tips
Spring time is heading our way and with it flowers!! So a simple game to play to support our phonics… with a hint of science to! name to flower parts!!! How to play Each player needs a counter. It can be a cube, stone, or the ladybird clipart Place the cards in a pile (shuffled) Aim of the game is to climb to the top of the sunflower. Only real words get you there! If you turn over and read a real word you get to move up one leaf. Place the real cards in the butterfly garden. However, if you turn over and read a nonsense word, that is for the compost heap and you do not move!
22 Key word cards with real-life colourful pictures for use in a Kenyan topic. Can be used on writing table in early years, in a small world or as part of a display.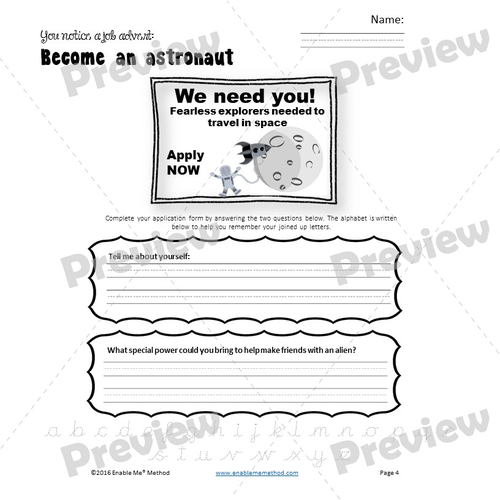 Do you have children interested in space and wish to become an astronaut? Do you need to teach older children to write legible, fluent, clearly formed cursive letters? This resource combines teaching children about Space with cursive letter writing practice. It asks a child to: • Trace, copy and write the alphabet • Complete an application form to be an astronaut. • Complete an id badge and medical badge • Draw a picture of their astronaut suite • Plan a 7 step checklist for their moonwalk • Write a tweet home about their time in space • Write a short story with guidance on beginning, middle and end • Write a short story with a thesaurus prompt for those who use the same word repeatedly The children think they are learning about how to become an astronaut by writing words, sentences and short stories. They are in fact… developing their joined up writing skills by drawing letter formations, copying key facts, writing sentences and developing their comprehension skills when writing their story on the lined paper. It helps children in Years 3 to 6, meeting the UK curriculum needs of Key Stage 1, Lower KS 2 and Upper KS2 to develop: • Letter formations and joins • Establishing handwriting movement patterns • Starting and finishing points • The correct direction to follow • The number of strokes involved to produce a letter • Size and spacing of letters It uses an award winning writing font teaching children where to start, which direction to write and where to stop. This is particularly useful for children with dyslexia, dyspraxia and for those who are slow writers. Created by myself, I use occupational therapy techniques to improve a child's writing throughout the pack by using a developmental process. The best bit is that they have no idea how much this resource is improving their handwriting as they are interested in learning more space and how to become an astronaut. I use it and I know it works. When I have used it a child's imagination banishes their fear for writing. One child suggested alien snacks was a need on his 7 point checklist for the moon walk. You do not need to think of anything as it has been done for you! Just print out and use. There are 18 pages of worksheets and guidance notes. Suitable to whole class, small groups and 1 to 1 sessions. **************** Read how I use this product everyday by going to http://www.enablememethod.com/blog/ **************** Terms of Use Copyright © Enable Me Method. All rights reserved by author. This product is to be used by the original downloader only. Copying for more than one teacher, classroom, department, school, or school system is prohibited.