Secondary Romanian resources
Keeping your class engaged with new and interesting classroom resources is vital in helping them reach their potential. With Tes Resources you'll never be short of teaching ideas. We have a range of tried and tested materials created by teachers for teachers, from early years through to A level.

Breathe new life into your lesson plans with our primary and secondary classroom resources. Whether you're looking for fun maths worksheets or brand new guided reading activities, we have thousands of free and premium resources for you to download. From early years to primary, you'll find phonics worksheets and numeracy games and all you need to revise for Sats. From secondary to post-16, we have everything from French lessons to algebra activities, as well as GCSE revision guides and more.
Read more
Useful phrases, verbs, numbers to help teachers / TA's on their first day with a Romanian speaking pupil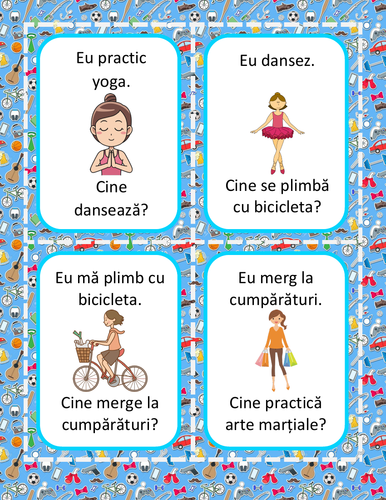 This game is a version of the classic I-Have-Who-Has game. It is designed to practice the Romanian verbs naming various leisure activities, sports and hobbies in the first and third person singular. It is a great way to practice the newly taught vocabulary, as well as pronunciation and listening skills. Print the document one-sided, laminate it and cut out the cards. Distribute all the cards randomly to the students. The ideal numbers of player is 9 (4 cards per person), but it can also be played with 2 to 18 players. Select a student to begin by reading his card out loud and then putting it down. The other students listen attentively to each question, answer it if they have the answer card and then they read the next question. The game is over when all the cards are down.