Secondary Welsh resources: gramadeg / grammar
Keeping your class engaged with new and interesting classroom resources is vital in helping them reach their potential. With Tes Resources you'll never be short of teaching ideas. We have a range of tried and tested materials created by teachers for teachers, from early years through to A level.

Breathe new life into your lesson plans with our primary and secondary classroom resources. Whether you're looking for fun maths worksheets or brand new guided reading activities, we have thousands of free and premium resources for you to download. From early years to primary, you'll find phonics worksheets and numeracy games and all you need to revise for Sats. From secondary to post-16, we have everything from French lessons to algebra activities, as well as GCSE revision guides and more.
Read more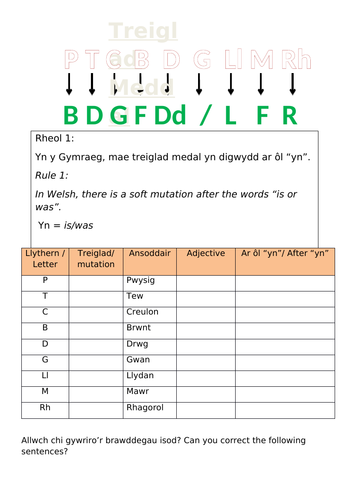 Gweithgaredd sy'n ymarfer treiglo'n feddal ar ol "yn". An activity that exercises using the soft mutation after is/was.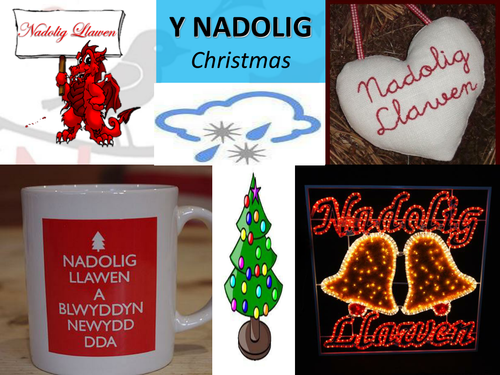 Sioe Sleidiau am Draddodiau (hen a newydd) y Nadolig yng Nghymru yn cynnwys lluniau, cerddoriaeth, gweithgareddau, fideos, gwybodaeth a llawer mwy. Mae'r adnodd yn addas i blant o bob oed - yn enwedig rhai sy'n dysgu'r Gymraeg fel ail iaith mewn ysgolion uwchradd (CA3 neu 4) Ffordd fach neis i orffen y flwyddyn cyn y gwyliau!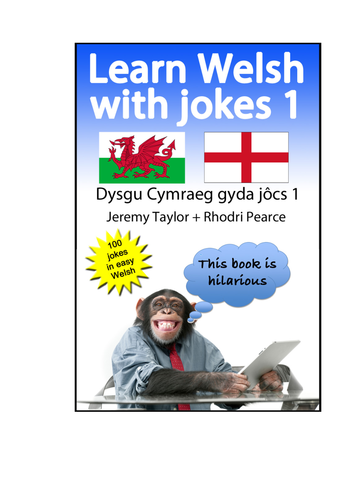 Learn Welsh With Jokes - sample is a sample of the full book, Learn Welsh With Jokes. In the sample there are ten jokes in Welsh together with vocabulary support and English translations. There are lots of different ways you can use them in class: As revision to illustrate a grammar point. Matching exercise - can they match the Welsh jokes with the English translations? Reading practice - short reading in Welsh and they are rewarded with a laugh if they understand it. Shouting dictations. Jigsaw text (cut up a joke line by line, can your pupils put it back together?) As a reward for good work/behaviour. The book has proved very popular with lots of teachers (and pupils). Why not give it a try?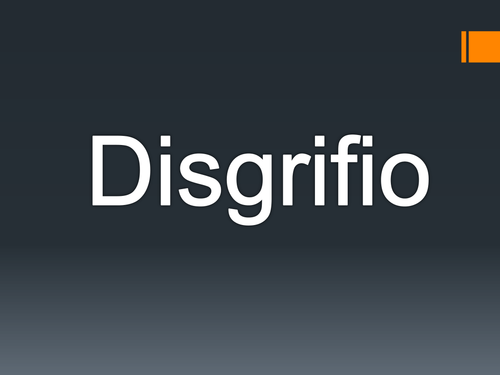 Mae`r adnodd yma am sut i ddisgrifio pobl trwy ddefnyddio ansoddeiriau, idiomau a chymariaethau! Grêt am helpu ddisgyblion! This resource is about how to describe people through using adjectives, idioms and similes! Great for helping pupils!
Are you learning Welsh? Are you looking for a fun way to learn Welsh? I have developed a way to learn different languages based on my experience as an ESL teacher. This pack has 57 different settings for students to talk about in Welsh. The worksheets themselves are in English and the students do need to translate the places and objects they see into Welsh. At the end of the session, the students can play a fun game of word bingo to show they have mastered that day's vocabulary. Try it, it is a lot of fun for everyone! * Please note - these resources provide visual prompts, not specific language instruction. Welsh Bingo pack: This is a simple starter game for students. There are 114 different pictures to choose from. Select a single picture and project the image on the wall or share it with the class as a handout. Let's Talk in Welsh!: This set of cards looks at 57 different settings. The teacher describes something in the top card. The students then use this to model a sentence using the bottom set of pictures. There are lots of things to see and describe in every picture. When the students have completed this task, they can repeat it by working in pairs to discuss each picture. Let's Write in Welsh pack: There are lots of ways of using this teaching pack. It could be used as writing assessment for students learning Welsh. The students could write about a topic in Welsh before and then after a topic, using the second worksheet at the end of the topic.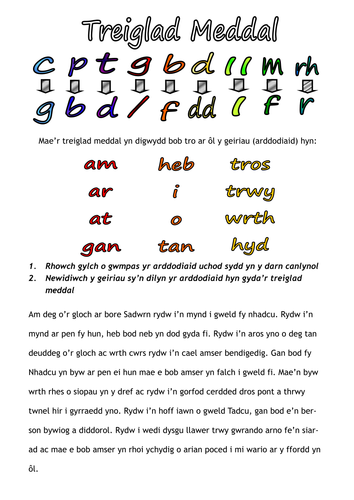 Worksheet in Welsh to practice soft mutation after prepositions. Taflen gwaith i ymarfer treiglo'n feddal ar ôl arddodiaid. Wedi diweddaru a chywiro! Updated and corrected!
Cyfres o adnoddau i gefnogi gwaith ar y treiglad meddal. Gan gynnwys pethau i roi ar y wal, cerdyn cofio i roi i'r disgyblion a thaflen ymarfer. Wedi ei gynllunio ar gyfer ysgol uwchradd, iaith gyntaf ond fe ellir ei addasu i lefelau is.