Secondary Welsh resources: ysgrifennu / writing
Keeping your class engaged with new and interesting classroom resources is vital in helping them reach their potential. With Tes Resources you'll never be short of teaching ideas. We have a range of tried and tested materials created by teachers for teachers, from early years through to A level.

Breathe new life into your lesson plans with our primary and secondary classroom resources. Whether you're looking for fun maths worksheets or brand new guided reading activities, we have thousands of free and premium resources for you to download. From early years to primary, you'll find phonics worksheets and numeracy games and all you need to revise for Sats. From secondary to post-16, we have everything from French lessons to algebra activities, as well as GCSE revision guides and more.
Read more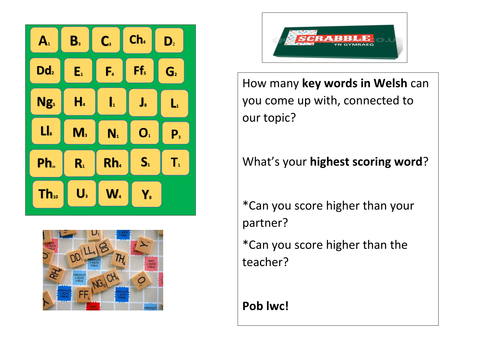 The Welsh alphabet with scrabble format for students to create key words in Welsh.
Taflen eirfa ar gyfer ysgrifennu disgrifiad o fyd natur neu'r byd diwydiannol.
Are you learning Welsh? Are you looking for a fun way to learn Welsh? I have developed a way to learn different languages based on my experience as an ESL teacher. This pack has 57 different settings for students to talk about in Welsh. The worksheets themselves are in English and the students do need to translate the places and objects they see into Welsh. At the end of the session, the students can play a fun game of word bingo to show they have mastered that day's vocabulary. Try it, it is a lot of fun for everyone! * Please note - these resources provide visual prompts, not specific language instruction. Welsh Bingo pack: This is a simple starter game for students. There are 114 different pictures to choose from. Select a single picture and project the image on the wall or share it with the class as a handout. Let's Talk in Welsh!: This set of cards looks at 57 different settings. The teacher describes something in the top card. The students then use this to model a sentence using the bottom set of pictures. There are lots of things to see and describe in every picture. When the students have completed this task, they can repeat it by working in pairs to discuss each picture. Let's Write in Welsh pack: There are lots of ways of using this teaching pack. It could be used as writing assessment for students learning Welsh. The students could write about a topic in Welsh before and then after a topic, using the second worksheet at the end of the topic.
Tasg darllen ar gyfer Blwyddyn 5/6 yn seiliedig ar stori Romeo a Juliet. Cynnwys 1. Dyddiadur Tad Juliet 2. Taflen adnabod nodweddion testun wedi'w cwblhau ar gyfer athrawon 3. Taflen adnabod nodweddion wedi'w wahaniaethu ar gyfer 3 haen
Looking at the question 'Beth wyt ti'n wneud?' Pupils fill in the sections using knowledge about what they are doing in Welsh.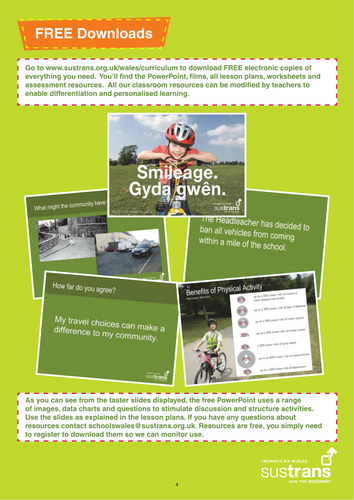 Resources form part of a classroom resource pack to meet Literacy and Numeracy Framework outcomes at Key Stage 3 through the topic of active travel. Sustrans' free pack of classroom materials can be delivered as a scheme of work or standalone lessons for Year 8 students. Provided are mathematical data sets, films, images and written articles to engage students. This resource is approved by the National Support Programme for Literacy and Numeracy in Wales. Find the complete resource at www.sustrans.org.uk/wales/curriculum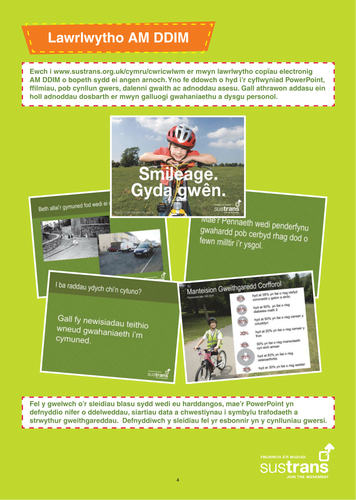 Pecynnau adnoddau ar gyfer yr ystafell ddosbarth er mwyn cyflawni canlyniadau'r Fframwaith Llythrennedd a Rhifedd yng Nghyfnod Allweddol 3 trwy bwnc teithio egnïol. Gellir cyflwyno ein pecyn am ddim o wersi a deunyddiau ar gyfer yr ystafell ddosbarth fel Cynllun Gwaith ar gyfer myfyrwyr Blwyddyn 8. Er mwyn ysgogi trafodaeth darperir amrywiaeth o destunau yn cynnwys setiau data mathemategol, ffilmiau, delweddau ac erthyglau ysgrifenedig. Mae'r holl adnoddau wedi eu cynnwys a gellir addasu'r dalenni gwaith at ddiben gwahaniaethu. Mae'r Rhaglen Gefnogaeth Genedlaethol yn cefnogi adnoddau addysgol Sustrans ar gyfer y Fframwaith Llythrennedd a Rhifedd. www.sustrans.org.uk/cymru/cwricwlwm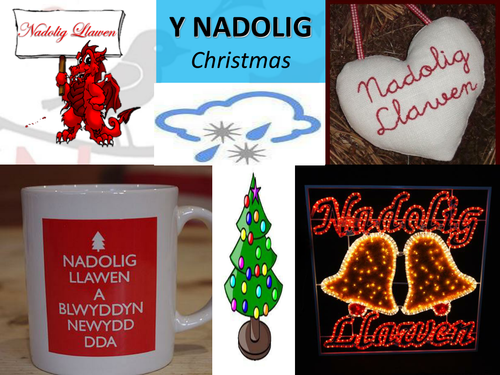 Sioe Sleidiau am Draddodiau (hen a newydd) y Nadolig yng Nghymru yn cynnwys lluniau, cerddoriaeth, gweithgareddau, fideos, gwybodaeth a llawer mwy. Mae'r adnodd yn addas i blant o bob oed - yn enwedig rhai sy'n dysgu'r Gymraeg fel ail iaith mewn ysgolion uwchradd (CA3 neu 4) Ffordd fach neis i orffen y flwyddyn cyn y gwyliau!