Secondary confidence intervals resources
Keeping your class engaged with new and interesting classroom resources is vital in helping them reach their potential. With Tes Resources you'll never be short of teaching ideas. We have a range of tried and tested materials created by teachers for teachers, from early years through to A level.

Breathe new life into your lesson plans with our primary and secondary classroom resources. Whether you're looking for fun maths worksheets or brand new guided reading activities, we have thousands of free and premium resources for you to download. From early years to primary, you'll find phonics worksheets and numeracy games and all you need to revise for Sats. From secondary to post-16, we have everything from French lessons to algebra activities, as well as GCSE revision guides and more.
Read more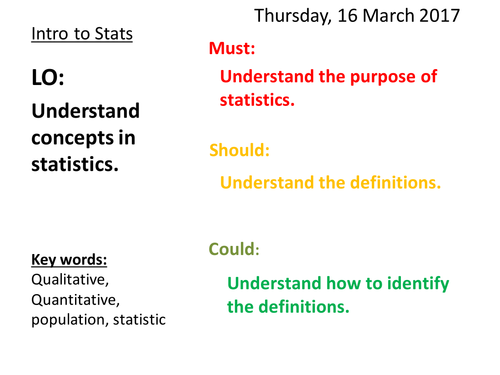 Mathematics Statistics 1 Lessons This is a set of lessons for S1 Statistics 1 A level Mathematics. The resources includes Powerpoints. Powerpoint include: Learning objectives Questions on the topic Important information written in red boxes to scaffold learning. Topics: Introduction Averages Measures of Spread Correlation Regression Probability Binomial Normal Theory Confidence Interval Revision Poisson I hope you enjoy these lessons, they can be used in the following ways: To deliver a course with reduced planning but not reducing quality of the lesson. As a basis for an observation lesson to save time preparing resources. To give to students for out of lesson learning. To support teachers who are new to this topic, again to reduce planning time. As a bases for your own lessons where you can include exam questions to each presentation. As an activity where the questions can be printed and cut out.
An Excel simulator does twenty samples each flipping a fair coin one hundred times. Each sample generates a confidence interval for the mean number of heads. On average, 19 out of the 20 confidence intervals will include the true mean of 50 heads, This simulation can be run many times (by pressing F9) and each time a new graph visually updates, showing how confidence intervals work. The number of flips and the probabilities can all be changed too.