Whole-school German resources: fiction
Keeping your class engaged with new and interesting classroom resources is vital in helping them reach their potential. With Tes Resources you'll never be short of teaching ideas. We have a range of tried and tested materials created by teachers for teachers, from early years through to A level.

Breathe new life into your lesson plans with our primary and secondary classroom resources. Whether you're looking for fun maths worksheets or brand new guided reading activities, we have thousands of free and premium resources for you to download. From early years to primary, you'll find phonics worksheets and numeracy games and all you need to revise for Sats. From secondary to post-16, we have everything from French lessons to algebra activities, as well as GCSE revision guides and more.
Read more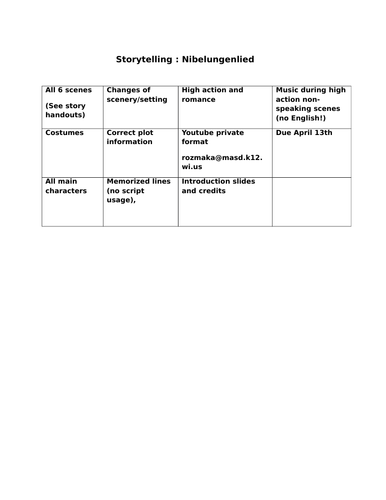 This is a shortened form of the famous legend of the Nibelungs of Germany. The story is shortened into 5 sections for students to read and have a vocabulary presentation for each section. I've also made a background knowledge reading and research piece to help students understand more of the historical background of the piece. I've also included a video project guide and final test. Would take about 25 minutes a day for about 7 days or you could chunk it into a longer period of time. I like to break it up. Also…there is a movie you can buy that is pretty good and fun to watch afterwards! The story is fun and historically interesting. Viel Spass!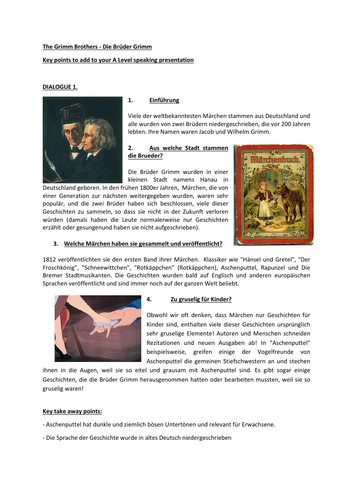 Prepared for an A level speaking presentation on the Grimm Brothers and their works. Speaking assessment model for a presentation on the Grimm Brothers and Aschenputtel/other stories. Aligned for AQA speaking assessments 2018.
This file includes 5 beginner German readings all the present tense perfect for beginners to review at over 50% off! Each reading is about three different young people talking about: ~Their family members ~Their favourite school subjects ~Their favourite sports ~Where they live: city, suburbs, farm Great for reviewing descriptions, hobbies, languages, professions, gern haben, house vocabulary, school subjects, etc. Each reading is followed by 8 reading comprehension questions.
In this beginner German Reading, three young people describe their home and surroundings. Each live in a different way: in an apartment in the city, in a house in the suburbs and in the countryside. Each young person describes the advantages of how they live and how they get to school. The reading is followed by 8 reading comprehension questions. Vocabulary includes: Rooms in the house: kitchen, bathroom, living room, bedroom Suburbs, countryside, City center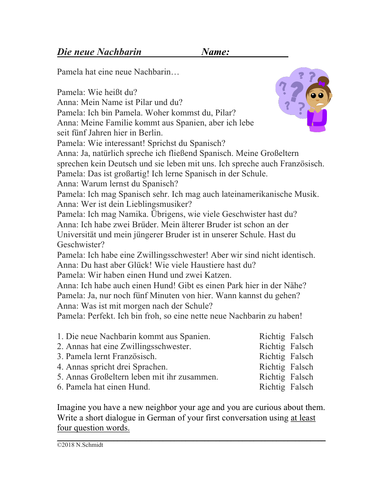 In this reading a teenage girl introduces herself to her new neighbor. The dialogue incorporates a number of question words so students may learn how to form questions with interrogatives. The reading includes 8 true/false reading comprehension questions and a short writing assignment. Activity idea: students may complete the writing assignment in class or for homework. They may then read their own dialogue with a partner.