Geography - AQA 1-9 - The Living World - Protecting Cold Environments (Whole lesson) A whole lesson (possibly a double with lower ability groups) which enables students to explore how the balance between economic development, and conservation, can be managed in cold environments. There are a range of differentiated activities which teach students the strategies they're requires to know. Culminating in students developing a mark scheme and answering a GCSE style exam question. Whole lesson > Key terms starter > Discussion prompts > Key ideas > Research activity > Exam style question with breakdown and structure > Class discussion > Learning evaluation > Summary activity > Homework > Lesson plan > Teacher notes > Fully resourced > Differentiated > The main aim is… To develop understanding of the issue between economic development and conservation. To discuss the balance of economic development, sustainable development and the need to protect wilderness areas. Key ideas and content… There are four strategies we need to know. There are advantages and disadvantages. Different people will have different opinions. To differentiate… See lesson plan, the notes in red are suggestions for lower ability groups. This lesson would certainly run over more than one session – for instance the exam style question work could be a lesson in itself with a lower ability group. To extend… See lesson plan, the notes in green are suggestions for higher ability groups. Introduce a research aspect to the main activity – students can research an example for each strategy. To assess… The summary activity can be assessed. The discussion points also provide assessment opportunities in lesson. All reviews for our premium products have been 5/5* (As of 26th February 201&) www.acornteachingresources.com
Two activity sheets intended to be used as part of a lesson. The theme of the lesson should be along the lines of 'Life in a squatter settlement', and could be taught with KS3 or KS4 students. Resource 1: the effects on peoples lives The main aim is for students to appreciate how the conditions / characteristics of a squatter settlement affect people's lives. The task is for students to complete the sheet in a few different ways. There are nine problems / effects associated with living in a squatter settlement. For each effect, they must list the associated problems, and for several, also draw the problem. Ask the students the question – how would this affect your life if you lived there? There will be some repetition. There are three blank cards as well, these are intended for higher ability students, or for the teacher to edit so as to include a problem which may be appropriate to the theme of their teaching. Higher ability students can cut the cards out afterwards and glue them in their exercise books – this is an opportunity to identify links between the problems. There are several, and the whole activity is very open ended. Students could also sort their ideas into social, political and economic – they could use three different colours and a key to show this. There are some answers on the next sheet, although there are many more. Resource 2: the informal economy of a squatter settlement The main aim is for students to appreciate how people can earn money within a squatter settlement. The focus should be on how the work is informal and doesn't contribute to the tax base / official figures. This kind of work can be contained within a squatter settlement, but not necessarily so. This is an opportunity to draw a strong link to rural-urban migration; how the residents are often uneducated and unskilled, but wanting and needing to work. The task is simple, for each form of employment, the student must draw an appropriate illustration. Model for lower ability, ask higher ability to include speech bubbles, or some form of written communication. Use as an opportunity to clear up any misunderstanding about what each term means. All reviews for our paid resources have been 5/5* (as of March 19th 2017)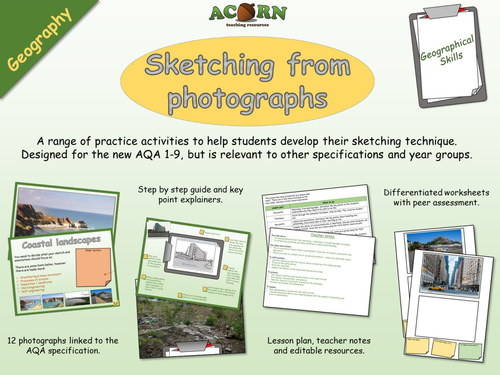 A range of practice activities to help students develop their sketching technique. Designed for the new AQA 1-9, but is relevant to other specifications and year groups. The lesson would be particularly useful to a GCSE group before they do their fieldwork, and will also be suitable for a KS3 class. There are also detailed 'key points' so students understand why they need to know how to sketch, and what technique makes it effective. On top of the field sketching there is a focus on application of key terms. The lesson has a range of visual resources, all relevant to the new 1-9 GCSE. A free wallchart is available to download at https://www.tes.com/teaching-resource/geography-geographical-skills-sketching-wall-display-11486949 The main aim is… To develop and practice field sketching / sketching from photographs technique. To effectively annotate and label sketches to show understanding. Key ideas and content… This is a practical lesson which would benefit from lots of student interaction and discussion. There are links to content, but it would work without – solely as a sketching lesson. To differentiate… Use the resources with the picture above a blank box for weaker groups. Focus on the same photos. Print the checklist. Display the photos on the board and discuss as a class. To extend… This lesson could be used several times in the same format. The teacher can add their own photos. Take the class on a local visit to practice the technique. Provide word banks for annotations. To assess… Peer assessment is woven into the main activity. Teacher should be able to see visual progress with the quality of sketching and level of annotations. All reviews for our premium resources have been 5/5 (as of 17th January 2017) www.acornteachingresources.com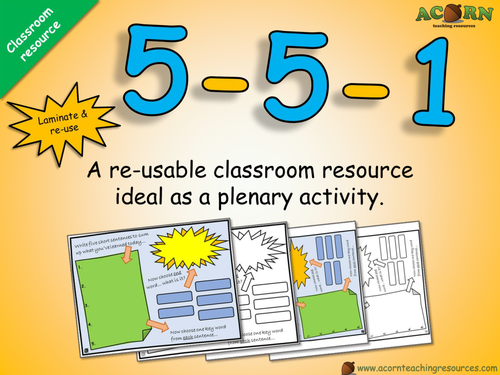 A re-usable classroom resource ideal as a plenary activity. There are larger versions intended to be printed in A3 and laminated, and smaller versions print and stick in books. Both in colour and black and white. www.acornteachingresources.com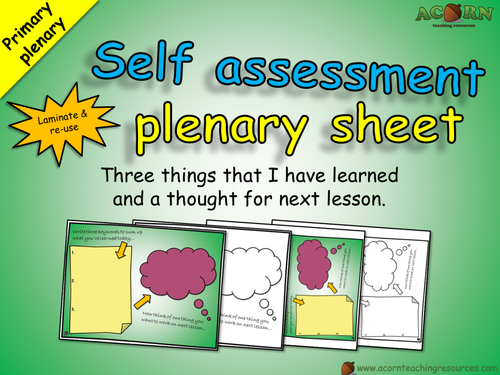 Three things that I have learned and a thought for next lesson. A re-usable classroom resource ideal as a plenary activity. There are larger versions intended to be printed in A3 and laminated, and smaller versions print and stick in books. Both in colour and black and white. www.acornteachingresources.com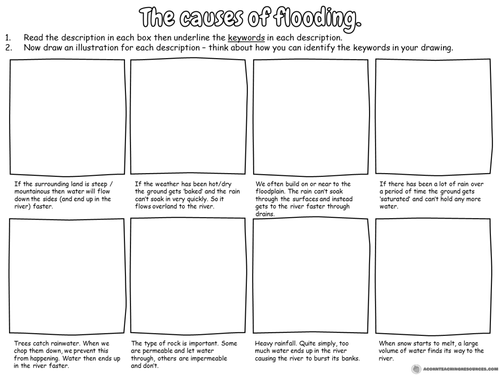 A simple activity to be included with teaching about the causes of flooding. Students read the descriptions and draw a diagram for each one. Ideal for lower ability groups.
Diamond 9 templates - great as part of an activity where students need to rank, prioritise or make decisions.
FREE and ready to print in A3, this board game will teach students to read words containing the split digraph a_e sound. A fun and colourful game to use as part of your teaching / small group interventions.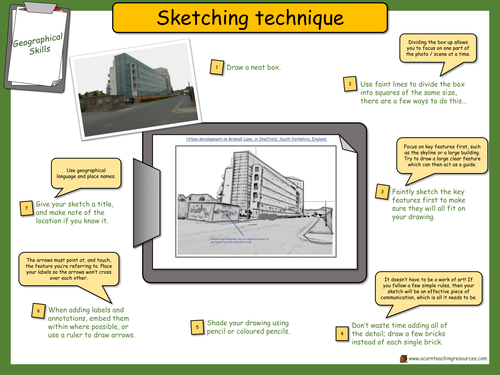 Wall chart with a step by step guide to sketching - aimed at GCSE geography but appropriate to KS3 as well. Print in A3. The full lesson is available at: https://www.tes.com/teaching-resource/geography-geographical-skills-sketching-field-and-from-photos-11486934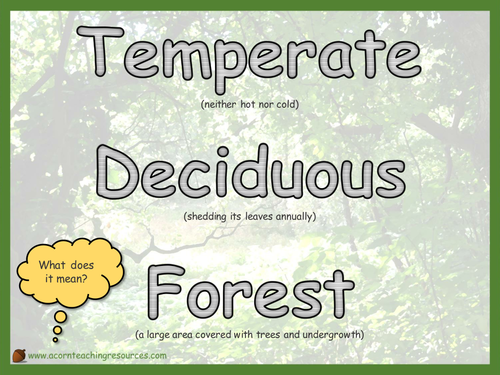 Print in A3 and stick on the wall somewhere.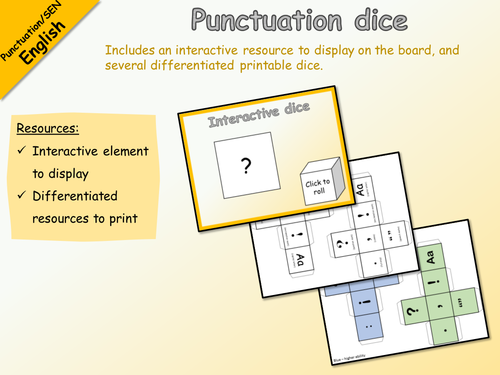 Elements to include in a lesson around punctuation: - Interactive element to display - Differentiated resources to print