Teach Trends Shop
High Quality Educational Resources - Geography - Physical Education - Display Boards & Posters
80Uploads
25k+Views
6k+Downloads
High Quality Educational Resources - Geography - Physical Education - Display Boards & Posters

This resource includes 5 high-quality Geography Revision Crib Sheets for use at the end of a topic or when revising for an exam. Aimed at the GCSE and Common Entrance Geography curriculums, the sheets include the main points of information as well as some exam-style questions to practise. The five revision sheets included are: Rivers - focusing on erosion/weathering, formation of river features, upper, middle and lower course of a river. Population & Settlement - focusing on birth and death rate, push and pull factors and settlement types and hierarchy. Weather & Climate - focusing on difference between weather and climate, factors influencing microclimates, types of rainfall and the 'Water Cycle.' Coastal Landforms - focusing on the erosion and deposition processes that cause landforms such as headlands, bays, spits etc. The crib sheet also focuses on the management techniques in order to protect coastlines. Earthquakes & Volcanoes - focusing on the layers of the Earth, types of plate boundaries and ways to predict and prepare for an earthquake or volcano.

Promote a calm, centred approach to each day by introducing time to practise meditation yoga in your classroom. These yoga cards include 10 different poses that pupils can have a go at individually or in small groups. This resource could form the basis of your starter activity in a PE lesson. Each card contains an image and three tips to completing the pose as well as two extension ideas if they have mastered that pose. The resource also includes a card that outlines all of the poses and their names. A clear, easy to read resource available to download in pdf format.

With the importance of mental wealth in schools at the forefront of many minds, ensure your pupils have opportunities to recognise what they are grateful for and use that to start a wider conversation in your classroom. The Gratitude Journal is a resource that can be used a whole-class booklet or as individual booklets for each pupil to reflect on each day. Ideal as a final form time activity at the end of a day or as a positive start to the morning. Available to download/create in A6 format or as a full size A4 journal. Downloaded in pdf format

Engage your pupils in their wider reading books or a class novel by using these reading comprehension prompt cards. Ideal for pupils to work on during a carousel activity or use just as part of a discussion at the end of a session. Alternatively, these cards could be printed, laminated and bound together with a keyring to be sent home to engage parents in their children's reading. The question prompts are differentiated so pupils can quickly identify questions that may challenge their comprehension skills. This resource consists of one overview card and six prompt cards containing at least four questions on each card. The 6 prompt cards include questions based on: Vocabulary Inference Predict Explain Retrieve Sequence

PE Lesson Lanyards are ideal for those pupils in your class who aren't physically participating in your lesson due to injury, illness or otherwise. Pupils pick out a lanyard at the start of the lesson and they are required to assume the role they have chosen. Lanyard Roles include: - Warm Up Coach - Fitness Coach - Referee / Umpire - Performance Analyser - Tactics Coach Each card provides the people with their activity for the lesson and when attached to a lanyard can be worn throughout the duration of the lesson, great for demonstrating inclusive practice. Lanyards can be laminated for continued use in subsequent lessons.

Geography Topic Theme Posters - Great for use on display boards in classrooms and around the school - Eye catching and professional designs Topics Include: + Global Locations + Mapping Skills + Weather & Climate + Industry & Transport

This resource can be used as a standalone poster to display in the classroom or as individual elements to place on a larger scale classroom display board. I have included the resource on a black background from which you can cut out for a striking display. The first slide is intended to show you a suggestion of how you may choose to set up your classroom display. All display elements are included: titles, speech bubbles, text and varying sizes of arrows. Elements can be made smaller or larger to fit your display board when printing or photocopying.

Promote kindness and empathy in your classroom with these mindfulness cubes which prompt children to think about what they could say or do in challenging situations. There are five cube nets available in pdf format to download within this resource. Kindness Cube (encourages children to act out or practise what they might say) Talking Cube (best used after an incident or time when a child is struggling to communicate their feelings/emotions) Me, Myself and I Cube (great for use as an '-ice-breaker' activity) Mindfulness Cube (5 activities to choose from to promote mental wellbeing) Blank Cube (create your own as a class or independently)

Celebrate the achievements of your pupils during their online learning with these five superhero-themed postcards. Print these out and write a personalised message to your pupils before sending home in the post or giving to your pupils at school. The five celebrate learning powers include: Perseverance Concentration Respect Reflection Collaboration

Inspire, reward and motivate your pupils whilst learning remotely using these fun and vibrant digital stickers. A selection of more than 40 high quality digital sticker in .png format with a variety of colours, images and words. Including: Impressive Work! Top Job! Very Impressive! Your Hard Work Is Paying Off! How to Use in Google Classroom On Google Slides: Insert Image, Select Sticker (png), move to desired place on slide. On Google Docs: Insert image/sticker in Heading to avoid disrupting layout/format of document by double-clicking in the Header How to Use in SeeSaw: Open student assignment, select Edit. Select the camera icon and upload image/sticker.

This resource includes a range of subject title colouring pages ideal for sticking on the front cover or first page of exercise books. These title pages not only allow pupils to easily visually differentiate between their exercise books but are also a good time filler colouring activity. There are 11 subjects included in this resource in pdf format: Geography History Religious Studies English Maths Science Art Physical Education Design Technology French Spanish

Save time and hassle creating your own birthday display chart with this resource. Choose from two designs (balloons or cupcakes), simply print, laminate and personalise according to the birthdays in your class. This high-quality resource also comes with number candles to write the names of your pupil's birthdays before adding to the respective cupcakes.

Improve your pupils' multiplication and division skills with this fact family worksheet. Edit and personalise the equations to suit the level of ability of your class.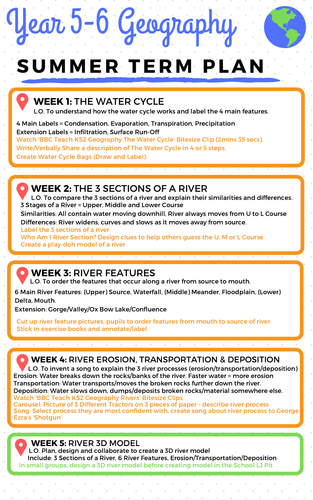 This scheme of work is suitable for KS2 Year 5-6 Geography and includes an 11-week plan and resources. Week 1-5: Unit based on 'Rivers' focusing on the water cycle, three sections of a river, river features and river processes (erosion, transportation and deposition). The unit culminates in a small assessment piece which requires the children to build a "foil river" using the Learning Power Approach, followed by a written task. All assessment rubrics are included. Week 6-11: Unit based on 'Mapping Skills' including lessons on grid references, compass points, contour lines and location knowledge. The plan also includes a detailed plan and resource for a Compass Fitness lesson outside which is ideal in the Summer Term.

Ideal resource for setting up in your classroom for the new school year. This display incorporates commonly used comments by pupils (and staff!) from a fixed mindset whilst also offering an alternative example from someone using a growth mindset. On the first page I have included a suggestion as to how you may want to display the resource in your classroom. I have then included all of the individual pieces that would make up this display, including all comments, the brain image, titles and arrows. The size of your display can be easily adapted when printing/photocopying the resource.

A set of 5 different pdf pages with common keywords and vocabulary used in each topic. Topics include: Rivers Coasts Volcanoes Earthquakes Weather Each page includes approximately 15-20 keywords with clear definitions and an appealing design. Great for use in exercise books at the start of a new topic or for use on a working wall or display. I'd be very grateful if you could please leave a review or feedback.

Decorate your classroom with eye-catching and engaging images that focus on allowing the children to identify their feelings and choose the manner in which they wish to be greeted each morning. Ideal for a focus on pupil wellbeing and identification of emotions. Morning Greeting Images Include: Hand Shake High Five Good Morning Friendly Hug Fist Bump Emotions/Feelings Images Include: Happy Excited Frustrated Angry Embarrassed Calm Curious Nervous I'm Not Sure? Plus many more…

Encourage your pupils to read from a wide variety of sources with the professionally produced reading bingo sheet. Can be used for a wide variety of year groups and abilities, why not set your pupils a challenge of completing 4, 8 or all 14? Available to download in pdf format. Any feedback would be much appreciated.

Inspire a love of reading amongst your pupils this Christmas with this book reading bingo sheet. Suitable for ages 9-14, however can also be used for higher ability KS1. Available for download in pdf format

Encourage the children in your class to continue their reading over the half-term with a Halloween-themed book bingo sheet. Children can work towards completing a horizontal, vertical or diagonal line or go for the full house!