14Uploads
8k+Views
208Downloads
This PDF file contains anchor charts for all five NONFICTION Notice and Note signposts, taken from the book Reading Nonfiction: Notice & Note: Stances, Signposts, and Strategies, by Beers and Probst. Contrasts and Contradictions Extreme or Absolute Language Word Gaps Numbers and Stats Quoted Words These signposts help students recognize significant moments in virtually any piece of nonfiction, helping them read deeper into the text. These anchor charts can be enlarged into posters or printed for teacher and/or student use. CHECK OUT MY OTHER NOTICE AND NOTE PRODUCTS! THE BUNDLE- 6 NOTICE AND NOTE PRODUCTS!!! Save $ when you bundle! NEW!! Fiction VISUAL Graphic Organizers Fiction Posters / Anchor Charts Fiction Graphic Organizers Nonfiction Graphic Organizers Fiction Bookmarks Nonfiction Bookmarks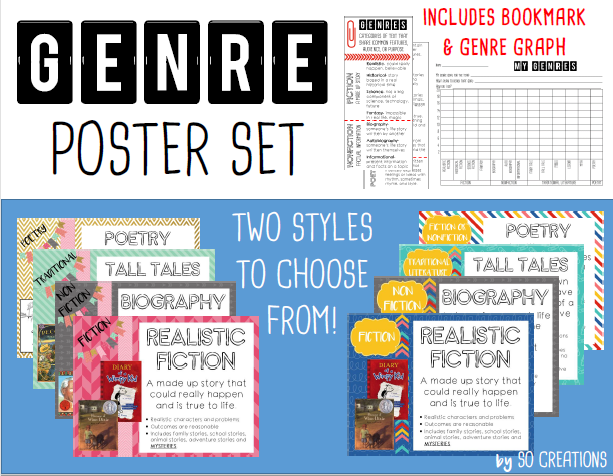 With this download you will receive 17 posters in TWO DIFFERENT STYLES! Each style includes the following posters: -"Genres" title poster - Fiction - Realistic Fiction - Historical Fiction - Science Fiction - Fantasy - Nonfiction - Biography - Autobiography - Informational Texts - Traditional Literature - Fairy Tales - Tall Tales - Fables - Legends - Myths - Poetry You will see that all fiction genres are on the same background color, all nonfiction, etc. This helps students visually categorize genres and subgenres. Posters include definition and bulleted features of that genre that students can look for in deciding whether a book fits that genre. Real literature examples are included with every genre! You can even pull the digital file up on your SMARTBOARD to use as slides for teaching each genre! Also included is a two-sided bookmarks to print for student use (I suggest cardstock and lamination) and a bar graph for students to track their own genre reading!
64 printable book tub labels for your classroom library. Includes all major genres, sub genres, and other fun categories! Labels included: • Realistic Fiction • Historical Fiction • Science Fiction • Fantasy • Action & Adventure • Traditional Literature • Mystery • Fairy Tales • Folktales • Humorous Fiction • Graphic Novels • Sci-fi: Dystopia • Sci-fi: Space & Time Travel • Fantasy: Magic • Fantasy: Talking Animals • Picture Books • Chapter Books • Poetry • Magazines • Comic Books • (4) Favorite Author: • Sports Fiction • Nonfiction • Science • Space • Animals • Sports Nonfiction • Earth Science • Physical Science • Life Science • Language • Geography • World Cultures • American History • World History • Revolutionary Wary • Civil War • World Wars • Ancient Civilizations • Westward Movement • Government • Mythology • Math • Biography • Autobiography • Librarian Favorites • Teacher Favorites • Award Winners • Nominees • Classroom Authors • Read Alouds • Newspapers • Book Hospital • 8 BLANK LABELS!
Students can use this flipbook as a reference during academic conversation and discussions. These skills should be explicitly taught, and eventually students shouldn't need to reference these speaking stems during conversation. Until they have mastered these speaking skills, this flipbook provides appropriate scaffolding for their conversations. Speaking "stems," "starters," or "frames" have been organized by conversation skill (5 tabs) and even further into ways to prompt the skill through questioning and ways to respond (t-chart on each tab). The 5 Conversation Skills by which the stems are organized: 1. Elaborate and Clarify Ideas 2. Support Ideas with Examples 3. Build on Ideas or Challenge 4. Paraphrase What's Been Said 5. Synthesize the Conversation
This zip file contains a multitude of resources that go with both the fiction and nonfiction versions of the book Notice & Note: Strategies for Close Reading, by Beers and Probst. These signposts help students recognize significant moments in virtually any piece of literature or nonfiction, helping them read deeper into the text. These anchor charts can be enlarged into posters or printed for teacher and/or student use. Bundle and SAVE! This bundle contains my entire line of Notice and Note products! 11 posters, 19 graphic organizers, and 2 bookmarks! BUNDLE INCLUDES THE FOLLOWING: Fiction Posters Nonfiction Posters Fiction Graphic Organizers Fiction VISUAL Graphic Organizers Nonfiction Graphic Organizers Fiction Bookmarks Nonfiction Bookmarks
Use this helpful cheat sheet for your conferring with readers at individual or small group reading conferences. This chart lists all the essential fiction reading skills, with conversation starters for the conference, and several strategies to teach for each skill! Don't ever feel stuck in a conference again. With this tool, you will always have a menu of teaching points to choose from! Skills included: Choosing a just-right book Reading unknown words accurately Reading fluently in phrases Reading with intonation Monitoring comprehension Activating and connecting to background knowledge Ask questions Retelling Summarizing Predicting Inferring character traits Tracking dialogue Figuring out new vocabulary Accumulating the story Determining Importance Synthesizing
This conferring notebook is everything you need (besides the binder!) to start meeting with students during reading and writing workshops! Included: -3 cover pages to choose from -Conferring Records at a Glance section to track conference frequency with students -Conferring Calendar section for planning -Assessment Data section with a Progress Tracker to keep track of reading and writing assessment growth for all students throughout the year -Strategy Groups sections with a graphic organizer for organizing kids into groups based on need and a notes page for keeping record of all your strategy group meetings -Individual Conferring section with (1) Student bio page to be printed for each student's section, includes places for their data, their self evaluations, and favorites, (2) PDSA goal setting sheets for students to set and monitor their own goals, and (3) TWO VERSIONS of conferring notes pages to choose from!
Use this vocabulary set to build an interactive word wall for US History social studies: Early Settlements unit. Words are key words from studying Roanoke, Jamestown, and Plymouth. Included in the set is a how-to guide for how to make this set interactive. Download my preview for a sneak peek! Currently includes 34 words. If there are other words you'd like to see included in this unit, let me know! Once you purchase, you have forever download. So once I update the product with new words, you'll be notified and you can print! settlement settler colony colonist indentured servant slave cash crop malaria marsh hardship headright representative House of Burgesses burgess separatist compact Mayflower Compact principle famine Sir Walter Raleigh John White John Smith Pocahontas John Rolfe The Powhatan Chief Powhatan William Bradford The Wampanoag Chief Massasoit persecution charter democracy Squanto pilgrim Also includes Roanoke, Jamestown, and Plymouth headers if you want to categorize the words.
This PDF file contains anchor charts for all six Notice and Note signposts, taken from the book Notice & Note: Strategies for Close Reading, by Beers and Probst. Contrasts and Contradictions Words of the Wiser Again and Again Aha Moment Memory Moment Tough Question These signposts help students recognize significant moments in virtually any piece of literature, helping them read deeper into the text. These anchor charts can be enlarged into posters or printed for teacher and/or student use. CHECK OUT MY OTHER NOTICE AND NOTE PRODUCTS! THE BUNDLE- 6 NOTICE AND NOTE PRODUCTS!!! Save $ when you bundle! NEW!! Fiction VISUAL Graphic Organizers Nonfiction Posters Fiction Graphic Organizers Nonfiction Graphic Organizers Fiction Bookmarks Nonfiction Bookmarks THANK YOU!
"The Socratic seminar is one of the best teaching techniques for engaging students in critical thinking and meaningful discussion of a text. Students are expected to articulate their own thoughts as well as listen and respond to others in the the group. The purpose of the seminar is not to debate or prove a point but to discuss open ended questions and explore many facets of a text." (https://empathyandinquiry.wordpress.com/2016/02/17/in-praise-of-the-socratic-seminar/) This is a rubric for scoring Socratic Seminar discussions in your classroom. It is a convenient word document, so you can enter your own students names along the top. Simply use checkmarks next to each criteria to assess how students are doing. Socratic seminars strongly support common core comprehension, speaking, and listening standards. Distinguish between Below Basic, Basic, Proficient, and Advanced. Some (but not all) of the criteria included: -Uses body language and eye contact to indicate active listening for the duration of the seminar -Both poses and responds to questions -Builds on the thoughts of others by using appropriate transitions -Asks clarifying questions -Quotes the text to support a point -Uses language of recognition and appreciation to promote collaborative, collegial discussions
The Six Thinking Hats® is a tool that has been used by people in the business world and the educational community. This methodology of thinking was invented by Dr. Edward De Bono. He is considered an expert in the field of creative thinking and the direct teaching of thinking as a skill. He has written sixty-two books which have been translated into thirty-seven languages. Dr. de Bono has earned, (M.D., Ph.D.), degrees in medicine, psychology, physiology, and philosophy, and Rhodes Scholar. He has held faculty positions at the universities of Oxford, Cambridge, London, and Harvard. The six hats critical thinking strategy is an excellent tool to be used in any subject area to extend student thinking and understanding. This strategy pushes students to think about the current topic/concept through six different perspectives. The 6 Hats strategy can be used whole class, in small groups, or individually. Included in this bundle: • Table tents for each of the six hats so you can assign each table in your classroom to "put on" one hat and then share out ideas. • Bookmarks for students to keep in hand during partner work, group work, stations, discussions, etc. I suggest printing these on cardstock and laminating them. • 5 different graphic organizers that could be used with the 6 Hats strategy For more information about how to introduce 6 Hats to your class, visit http://sisdtx.sharpschool.com/common/pages/DisplayFile.aspx?itemId=17274974
This International Baccalaureate IB Poster MEGA-SET includes poster sets for the IB Learner Profile, Attitudes, and Key Concepts! There are even 2 design styles to choose from! Download the preview for a sneak peek! LEARNER PROFILE Inquirer Communicator Open-Minded Principled Balanced Knowledgeable Thinker Caring Reflective Risk-Taker (Also included is a "Courageous" poster with the Risk Taker description as some schools choose to use the language Courageous instead of Risk Taker) ATTITUDES Appreciation Commitment Confidence Cooperation Creativity Curiosity Empathy Enthusiasm Independence Integrity Respect Tolerance KEY CONCEPTS Responsibility Perspective Reflection Change Function Connection Causation Form
We all know that as teachers we are responsible for teaching the standards. But we are also responsible for teaching life skills/character education. This teacher guide for class meetings is a complete curriculum for upper elementary and middle school classrooms. It includes the following 13 units: Respect Empathy & Compassion Tolerance Responsibility & Self-Discipline Cooperation & Teamwork Honesty & Integrity Curiosity Creativity Appreciation Enthusiasm Commitment & Perseverance Confidence Independence Each unit contains: -an essential question -pre-survey -discussion questions -quotes to discuss -a weekly character challenge -real world scenerio connections -role models from the world -language arts connection -literature lists -links to multimedia videos -activity lesson plans -student reflection piece Great for International Baccalaureate Schools because it includes the IB Attitudes!