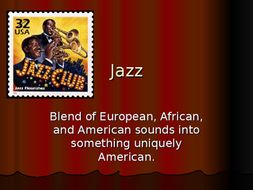 An Introduction to Jazz
This PowerPoint covers some of the major figures in the history of jazz music. Coupled with a Spotify Playlist this lesson helps introduce jazz for music appreciation, jazz-era literature (The Great Gatsby, etc.), or for history classes in an engaging way!

Teaching Tips:

This mini-lesson can be a stand alone introduction or be coupled with jazz era literature and history to bring the time period to life!
Read more