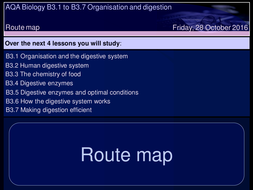 AQA Biology B3 GCSE Trilogy New specification 2016
AQA Biology B3 GCSE Trilogy New specification 2016

Organisation and digestion
Read more
About this resource
Info
Created: Oct 28, 2016
Updated: Feb 22, 2018
Other resources by this author
Popular paid resources
This is a 'complete guide' for all of the PAGs for A-level OCR A Biology. It has all of the experiments required, displayed clearly and concisely, ...
cloudbird
A summary of Hydrogen Bonding and Its Uses in Biology. Very useful as exam/test preparation. Made for OCR, but can be used across syllabus.
Twilight101
End of Unit 2 Biological Molecules Assessment for the CIE 9700 Biology AS Level Course. This examination along with answers assesses students on st...
njt555
New resources
These are my revision notes made for A level biology for the new specification for Edexcel Salters Nuffield. These notes were developed through sev...
armani2867
Classroom poster detailing the comparison between the stimulus response pathway of conscious and unconscious (reflex) actions that include the rela...
rokerroar
Updated resources
This is a complete collection of lesson resources for the unit of work on Biological Molecules - it includes powerpoints for every lesson, and all ...
roberti_85
Revision lesson for the 8A topic in the new Exploring Science scheme of work looking at food and nutrition. Designed to be carried out as a carouse...
fosterpaul
Revision worksheet for the new Exploring Science 8A unit all about Food and Nutrition. Intended to be printed as an A3 double sided worksheet - has...
fosterpaul