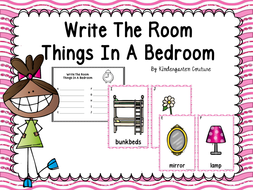 Bedroom Write The Room
Write The Room Things In A Bedroom has 10 picture cards and one recording sheet.
Students will love having the chance to walk around the room searching for the word cards that you have placed around the room. Great picture cards for ELL students. Pictures include: alarm clock, bed, dresser, night stand, mirror, lamp, armoire, rug, bunk beds, and plant.
Read more
About this resource
Info
Created: May 18, 2017
Updated: Feb 22, 2018