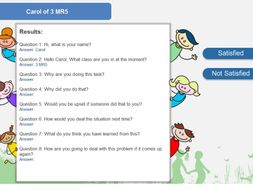 Behaviour Reflection Activity for Challenging Behaviour
This is an interactive resource to encourage a student to reflect on his/her behaviour and how to modify this behaviour in the future.
Good for detention too!
The teacher should note there is a password: abc2016 to accept the reflection or ask the student to repeat the reflection task.
A version with sound is available on request.

help video to download (this was used for a different resource, but the instructions are the same to download)
https://youtu.be/Z6GWYIQXXeo

1. Download zipped file
2. YOU MUST then EXTRACT the files (right click the zipped downloaded folder)
3. Go to the EXTRACTED files and then double click on the story.html

Make sure you have an updated browser and updated flash player.
Read more