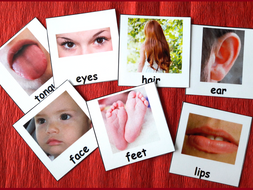 Body Parts Photo Cards for Autism, Pecs
Body Parts Photo Cards (8 pages) for Autism, Pecs, Visuals, Speech Therapy, ABA
The pages must be printed on photo paper, laminated and cut out. You`ll get 2 sets of cards- one icluding picture names in border bottom and the second one including them in border top. Use velcro on the back side of each card for pecs purpose. There are 28 cards that will help students with autism and special needs learn about their body parts.
The body parts included are: arm, back, cheek, chest, chin, ear, elbow, eye, face, feet, finger, forehead, hair, hand, head, knees, legs, lips, mouth, nails, neck, nose, palm, shoulder, stomach, teeth, toes, tongue.
*** 2 bonus pages are added including some body parts for different races.