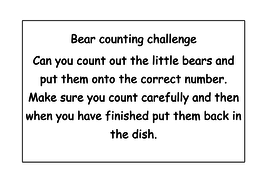 Counting Activity using Bears
Counting activity for early years using bears.
Read more
About this resource
Info
Created: Mar 28, 2013
Updated: Oct 15, 2015
Report a problem
This resource is designed for US teachers. View UK version .
Other resources by this author
You need to down load and print perhaps making the fish a little bigger - laminate and then play - fish all have the phase 2 and 3 sounds. There ar...
jfreeman1961
Hi If you have used the One Snowy Night power point then this lovely game supports learning the story through questioning in a Bingo board game. If...
jfreeman1961
Popular paid resources
Question titles and resources for a working maths wall aimed at KS2 - focus Reasoning. Also, includes Place Value resources linked to Y5 expectatio...
jreadshaw
Here we go again! New children, new challenges. This is the planning and resources to go with the White Rose Maths scheme of learning for Year 1, A...
tg11
Hello again. This is the second week of planning and resources to go with the White Rose Maths scheme of learning for Year 1, Autumn Block 1, Place...
tg11
New resources
Pupils solve the equations to find the values for different letters and use them to decode a message.
amwgauss
Three short homeworks on probability, sequences and factors & multiples.
amwgauss
This resource aims to engage students with identifying prime, square and cube numbers and also to find factors, multiples, LCM and HCF through foot...
amwgauss
Updated resources
This is a great, engaging activity for a standard form lessons. Skills covered are converting standing form to ordinary numbers. Great for end of l...
MissEHoney
Microsoft Excel required Dice and counters required Suitable KS1/2 5 game files Nearest to 10 with 2 digits - see preview image Nearest to 10 with ...
pjmcc2
This resource contains the fourth set in a series of 4 sets of resources designed to consolidate some of work undertaken in the White Rose Maths Sc...
Krazikas
Related content