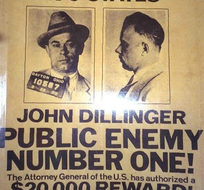 Gangsters, bank robbers and outlawsfrom the Prohibition& Great Depression in th
A pictorial PowerPoint presentation about several infamous criminals of the inter-wars period and crime and punishment in the 1920's and 30's USA .The presentation covers Al Capone, Bonnie and Clyde, Dillinger, Pretty Boy Floyd and Baby Face Nelson. The significant role played by crime-fighting FBI director J. Edgar Hoover is also investigated. There is a questionnaire and students are also required to provide definitions for a list of terms related to the topics.
Read more
Report a problem
Creative Commons "Sharealike"