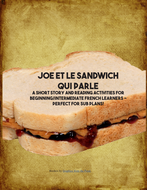 Joe & the talking sandwich - French reading/sub activities
Need a fun activity for your students to do while you're out? None of the subs speak French? This activity packet is the perfect plan! Includes 2 versions of a 2-page story. The first is in the present tense for first year students; the second is in the past for second year students. Includes comprehension questions and 2 more activity pages for the story. The second part includes authentic materials - an infographic about sandwiches in France and two menus in French, along with questions.

Of course, you could also choose to do this activity when you're not having a sub!
Read more