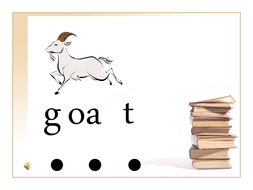 Jolly Phonics: "OA"
A power point presentation to help with teaching phonics (oa).
This resource is designed for US teachers. View UK version .
Categories & Grades
Other resources by this author
Phase 3 substitution sentences. You'll need to laminte all the cards. Put sticky-back velcro onto the coloured squares on the page and the back of ...
poor tom
A power point presentation to help with teaching phonics.
poor tom
A compilation of fireworks displays to stimulate partner talk and writing.
poor tom
Popular paid resources
30 pages of phonics activities perfect for practising alien words from phase 2-5 for the Phonics screening check.
littlemisstechnical
This is a hugely popular revision tool for the Y6 Reading SATS test! Get ready for the 2018 KS2 reading assessments with this SATS Question Generat...
KS2History
A Variety of Literacy Tasks based on a Pirate Theme. Word mat provides useful words and phrases to support writing tasks. Pirate Character Descript...
Alice K
Updated resources
This game is loved by my mixed R/1 class. This download includes 5 PDF documents with 4 pages (20 boards in all). Each split digraph a_e , e_e, i_e...
Chesholivia
The Houdini Box Word Search
sfy773
Brand New End of Summer 2018 Quiz. My students loved this quiz - particularly the headline writing and music intros round! 5 rounds of general know...
Best_Newcomer_2009