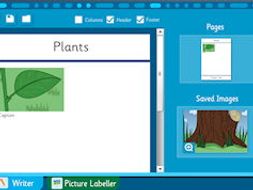 Plants and Trees - Make Your Own Information Book
This is one of a series of TESiboard Make Your Own Information Books. This version includes scenes and objects to support writing about Plants and Trees. We recommend that a pupil produces just one page, focusing on features of information writing and carrying out research to find relevant facts. Pupils could work in a team, pooling their efforts to make a complete, class book for one topic.

Note: This is a Flash activity and may not work on all devices and browsers. We recommend IE.
Read more