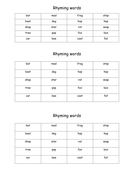 Rhyming Word Bingo
It is similar to a bingo game but the words are always the same. The children have to color in different colors the rhyming words after the teacher calls a rhyming word that is not listed. There are also about 2 words that do not rhyme with the rest to ma
This resource is designed for US teachers. View UK version .
Categories & Grades
Other resources by this author
Poem that fits well with the theme healthy eating or food. A powerpoint with fruit and vegetables - good for vocabulary if English is not the pupil...
sarah_marie
<p>Ideal to be used in for animal themes. It may also be used to introduce new vocabulary to substitute the verb walk.</p>Appropriate f...
sarah_marie
A set of number cards from 0 to 99 that may be stuck to a cardboard to create cards.
sarah_marie
Popular paid resources
30 pages of phonics activities perfect for practising alien words from phase 2-5 for the Phonics screening check.
littlemisstechnical
This is a hugely popular revision tool for the Y6 Reading SATS test! Get ready for the 2018 KS2 reading assessments with this SATS Question Generat...
KS2History
A Variety of Literacy Tasks based on a Pirate Theme. Word mat provides useful words and phrases to support writing tasks. Pirate Character Descript...
Alice K
New resources
Over 100 plenary ideas - make each lesson fun and varied with over 100 different ideas for plenaries, assessment activities and ways to sum up or e...
lordturner
Kids love playdough mats, especially mats that include a little challenge! Great for fine motor, literacy and numeracy skills, your students will l...
TeachersToolkit
A fact file and three differentiated reading comprehension activities related to it that focus on Christmas around the world, looking at different ...
krisgreg30
Updated resources
This has been designed so students can work together during a pre-exam breakfast session in preparation for the AQA English Literature Paper 2 exam...
Lead_Practitioner
This fully interactive high-quality gameshow features exciting sounds and drama. Each possible answer is linked to either a pass or fail screen ind...
GalvaniseEDU
Here is a very detailed resource, structured around the themes explored by both texts of American Literature in the period 1880-1940. The notes are...
gaspardduchaff