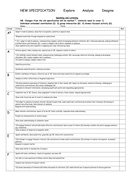 Speaking and listening rubric handout
Rubric to assess students' speaking and listening skills.
About this resource
Info
Created: Jan 7, 2007
Updated: Aug 19, 2015
This resource is designed for US teachers. View UK version .
Categories & Grades
Other resources by this author
This resource has a tick assessment sheet that may be used when assessing GCSE Speaking and Listening tasks. It provides grade levels and their des...
kizhen
working with the background of batman a way into the poem
kizhen
<p>horror genre - Frankenstein extract - how is atmosphere created?</p>
kizhen
Popular paid resources
These 'Library Challenge' cards were made for my class library, but they could be used in a school library as well. The idea was just to get the ch...
sh2810
A Variety of Literacy Tasks based on a Pirate Theme. Word mat provides useful words and phrases to support writing tasks. Pirate Character Descript...
Alice K
Spring /Easter Poetry Learning Intention : to compose Spring Poems/ Easter Poems PowerPoint presentation which provides a stimulus for a variety of...
Alice K
New resources
This engaging and informative lesson enables students to make detailed and precise interpretations of the character of Abel Magwitch in Great Expec...
TandLGuru
70 exciting Assessment for Learning activities - make each lesson fun and varied with over 100 different ideas for assessment activities and ways t...
lordturner
This resource is suitable for an entire lesson to improve speaking and listening skills as well as opportunities for working with others. It's idea...
meganrules83
Updated resources
Reading comprehensions in sets of 5 questions to cover the whole picture book. 5 questions per double page spread.
hallmissh09
This reading lesson is aimed at Y5 pupils but could be easily adapted for any KS2 class. The learning objective is to 'GIve reasoned justifications...
princessfiona1
When I started using this story writing board I found the students busy using their imagination and creativity. They will come up with different id...
Teachers_choice12