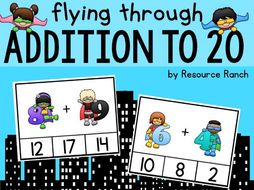 Superhero Addition Clip Cards "Flying through Addition to 20"
These addition clip cards are a fun way to practice or review addition facts to 20! This set features superhero kids with numbers. They work great for independent math centers.

Flying Through Addition has 240 cards including both a color and line art version. To improve function and durability I suggest copying or printing on card stock. After cutting, place a dot, stamp, or sticker on the back of the box with the correct answer on each card to make them self-correcting. Then laminate and cut again. The extra steps will take a little more time but make this a valuable, long lasting center.
Read more