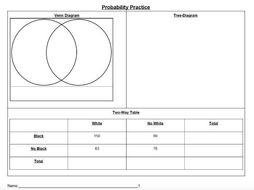 Venn Diagram, Two Way Table and Tree Diagram Data Practice
I created this worksheet to help my students practice organizing data in three different ways. Given data in a Venn diagram, a story, a two-way table or a tree diagram--the students have to organize the data in the other ways that are not given.

This worksheet includes 10 unique pages.
Read more