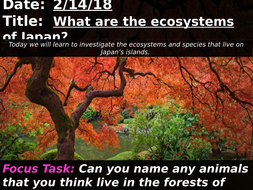 What are the ecosystems of Japan?
This is a KS3 aimed lesson taught as part of my Asia SOLAP. The lesson focuses upon the temperate deciduous forests of Japan with a particular focus on key words, the location, climate, characteristics and flora and fauna adaptations. Included are relevant videos, map work, a climate graph interpretation question and a quick plenary quiz.
All resources necessary are attached.
Read more