Early years Mandarin resources: language and linguistics
Keeping your class engaged with new and interesting classroom resources is vital in helping them reach their potential. With Tes Resources you'll never be short of teaching ideas. We have a range of tried and tested materials created by teachers for teachers, from early years through to A level.

Breathe new life into your lesson plans with our primary and secondary classroom resources. Whether you're looking for fun maths worksheets or brand new guided reading activities, we have thousands of free and premium resources for you to download. From early years to primary, you'll find phonics worksheets and numeracy games and all you need to revise for Sats. From secondary to post-16, we have everything from French lessons to algebra activities, as well as GCSE revision guides and more.
Read more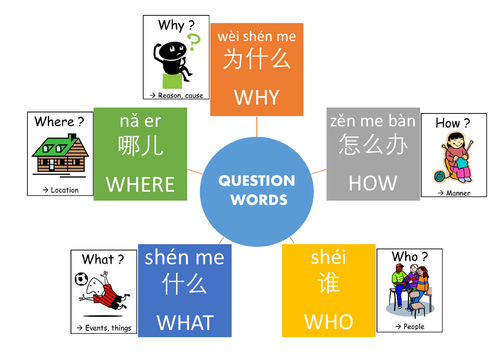 Questions Words Word Mat in Mandarin Chinese Great for classroom display
Engaging Word Mats ready to be displayed in classroom. This series of word mats can also be printed out as a mini-book. Including: My Pets (Animals) Sports Ballgames Countries Colours Clothes Food&Drinks Transportation Personal Pronouns Question Words Days of the week
With this colored worksheet template, you can collect the Chinese characters that with the same radical and compound words that has the same character. Use it to create your language bank in a colorful way.
After studying the databased from Taiwan, Hong Kong and China, I created the High Frequency Mandarin Characters vocabulary lists for educators and learners. There are three sets, with online supports, including pronunciation and Pinyin.
Suitable for Primary Level! Students learn to say and write animals' names in Chinese. Students create a mini-book using provided templates. Students also learn the use of different measure words in counting animals. Including: Flashcards Word mat Animals worksheets Mini-book templates Measure words worksheets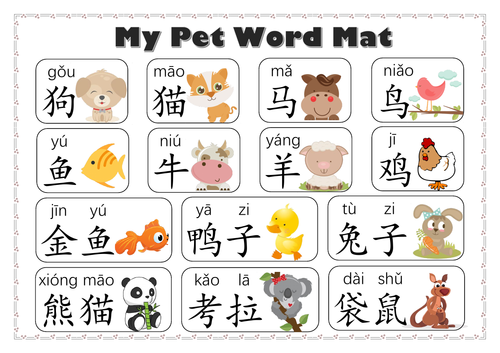 Engaging word mat ready to be displayed in classrooms! My Pets (Animals) Word Mat included.