Primary French resources: war and peace
Keeping your class engaged with new and interesting classroom resources is vital in helping them reach their potential. With Tes Resources you'll never be short of teaching ideas. We have a range of tried and tested materials created by teachers for teachers, from early years through to A level.

Breathe new life into your lesson plans with our primary and secondary classroom resources. Whether you're looking for fun maths worksheets or brand new guided reading activities, we have thousands of free and premium resources for you to download. From early years to primary, you'll find phonics worksheets and numeracy games and all you need to revise for Sats. From secondary to post-16, we have everything from French lessons to algebra activities, as well as GCSE revision guides and more.
Read more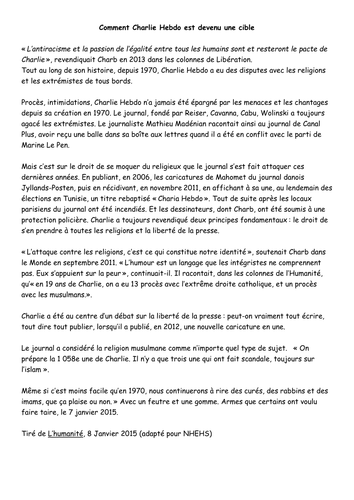 Textes tirés de journaux français et adaptés. Questions sur le texte et pour faire reflechir.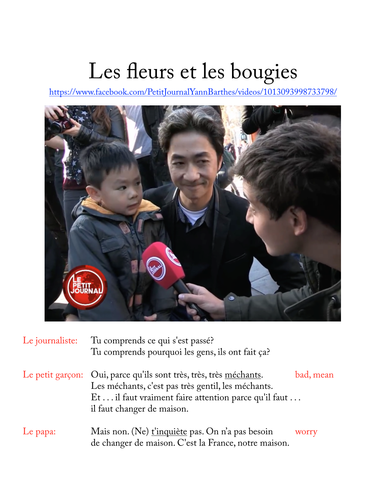 After the Paris attacks, this video interview with a frightened little boy went viral. The child articulated everyone's fear and confusion but his gentle and wise father managed to find just the right words to comfort his son . . . and the rest of us. One sane, calm voice for peace on earth in a dark time. This file includes a link to the French-only clip, a full transcript and the French FB page with reactions to the interview from around the world and a message from Angel Le, the child's father.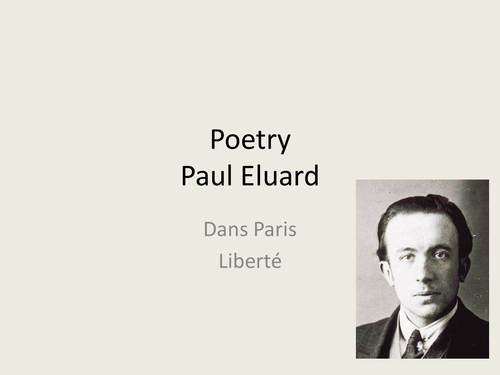 Reading and understanding poetry - looking at Dans Paris and Liberte with texts, youtube links and activities.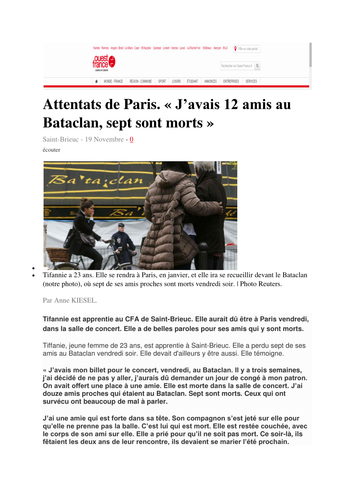 Selection of articles from the press and facebook giving the human perspective of the Paris attacks. Reading of authentic news articles for gist, skim/scan, comprehension, as well as higher level responses.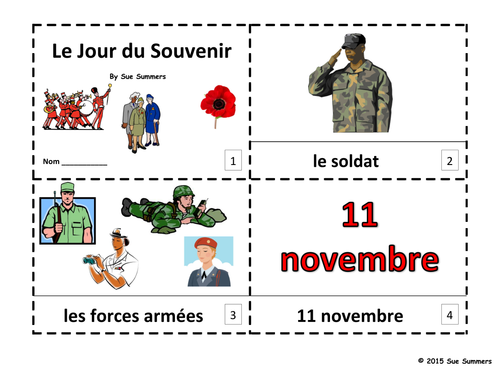 French Remembrance Day 2 Emergent Reader Booklets - Le Jour du Souvenir - Each booklet contains 12 pages: the title page with 11 additional pages containing words associated with Remembrance Day. Words included are: soldier, armed forces, poppy, parade, cemetery, veterans, November 11th, love, dove, peace, and wreath. Also included is a page of suggestions for using the booklets and an assembly instruction page. Students first read and cut out the booklet that contains text and illustrations, then create their own version using the text only template. Students will enjoy sharing them with classmates and family members! The illustration version can be projected in class to present, review and practice pronunciation of the vocabulary words. The text only version can be projected onto the Smart Board and students can draw pictures on the Smart Board that correspond to the text.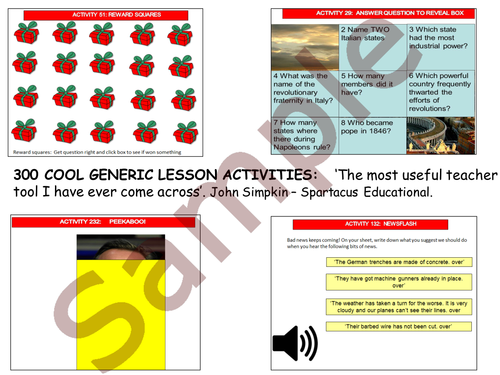 This is a 25% sample of my very popular resource. The full resource can be found by searching for '300 generic lesson activities'. (Following its success in the summer sale, I have kept the sale price of £3). The description for the full file is as follows: Create lessons in seconds with this HUGE PowerPoint of animated lesson activities. There are HUNDREDS of templates that you can over-type in seconds to create engaging lesson material. Highly praised by John Simpkin of Spartacus Educational and Mark Warner of Teaching Ideas. I am very confident you will like this. If you do, please click on my profile to see my other popular resources. Thanks (This file also has a bank of PowerPoint timers) The size of the file should show you how much stuff there is! Without sounding overly confident - it's the best resource out there! Many thanks Copyright T.Taylor