46Uploads
2k+Views
209Downloads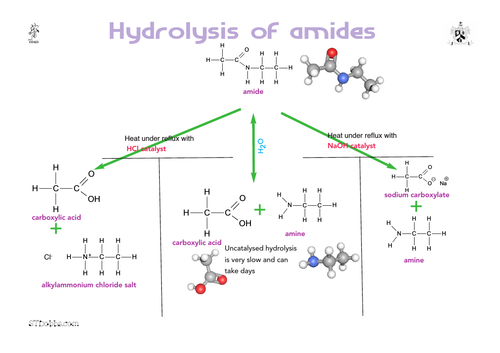 A simple poster or revision display which uses colour to make the hydrolysis of amides engaging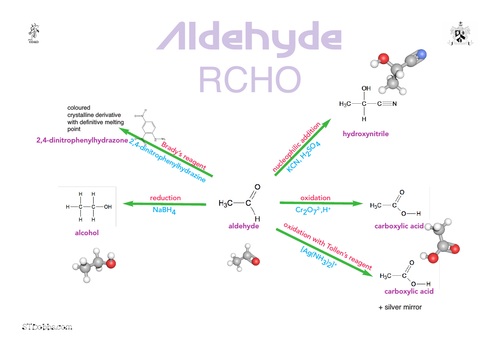 A colourful summary of the reactions of aldehydes which could be displayed on a noticeboard or given as a revision resource (print in colour!)
A simple revision poster on organic analysis for AQA A level chemistry.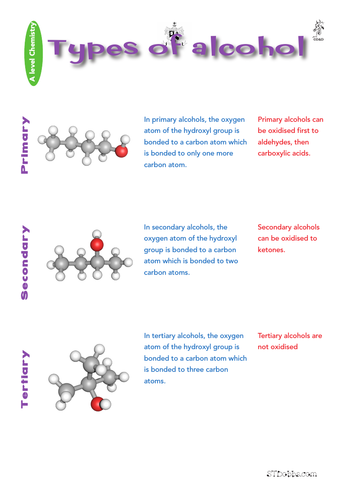 This is a very simple revision sheet or poster showing the difference between primary, secondary and tertiary alcohols.
Some synoptic questions in the form of an interactive web-based crossword. Unzip the file and double click on the index (Works with edge, chrome and firefox, but not safari)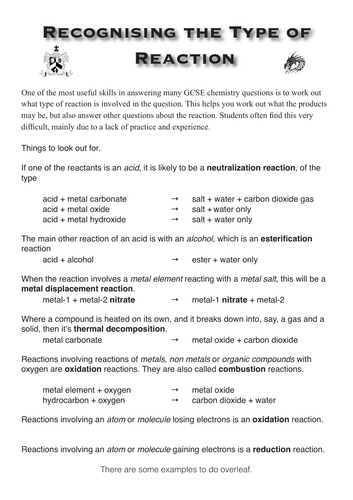 One of the most useful skills in answering many GCSE chemistry questions is to work out what type of reaction is involved in the question. This helps you work out what the products may be, but also answer other questions about the reaction. Students often find this very difficult, mainly due to a lack of practice and experience. This simple information sheet with examples at the back is in black and white so can be readily photocopied.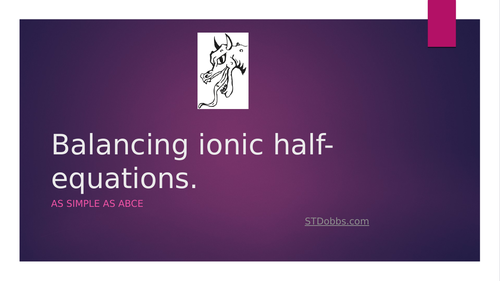 Quick and short presentation on how to balance the manganate (vii) half equation, to save you time.
Animate your lessons. Simple, hopefully clear animation of catalytic hydrogenation of ethene.
Useful as a starter round the board. Drag the models next to the correct name. If it is correct it will stick, if not it won't. This tests understanding of functional groups and different types of molecular model. Double click on the FuncDragAndDrop.html file, and you're there
Make things move A simple animation of paper chromatography of food dyes… however, unlike the real practical, no streaking occurs, so students can get a feel for what should happen, not what actually does happen.
Make things move in your class. A little starter illustrating the nitration of benzene.
Add motion to your lesson. This is a simple animation of the reaction mechanism. It is presented as a single powerpoint slide
A minimalist presentation which has dot diagrams up to potassium.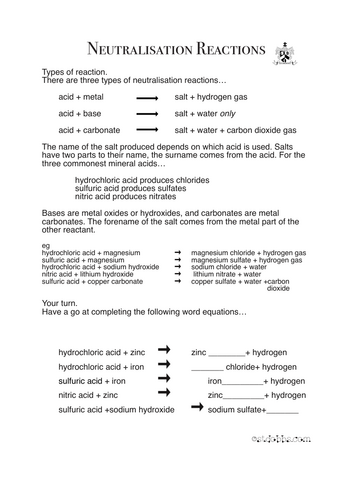 This is a simple worksheet about writing word equations for neutralisation reactions. There are plenty of examples, which get harder as you go on. There is an accompanying powerpoint.
A simple worksheet which reinforces organic functional groups. Could be printed or presented on screen as a starter.
A presentation to augment my displacement reactions worksheet, with answers to problems.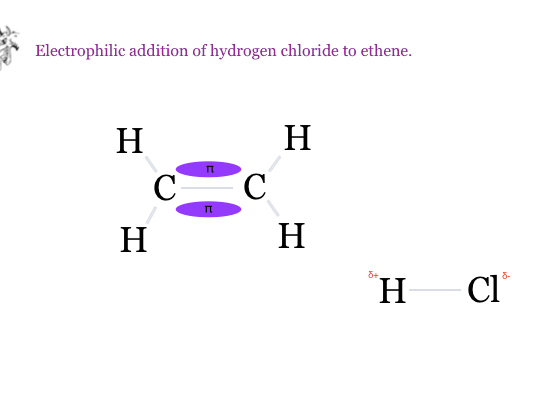 A first-shot at a video of the mechanism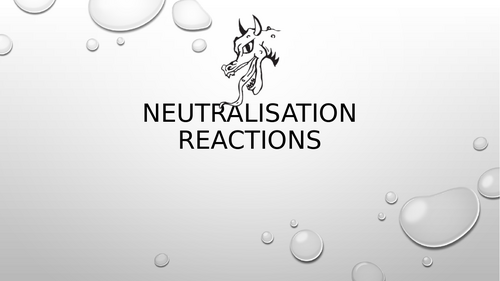 This is a simple powerpoint presentation outlining how to write word equations for neutralisation reactions. It has plenty of examples and problems. It is allied to my worksheet of the same name, with the same problems for students to try. The answers are at the end of the presentation, for students to mark their own work.
Simply drag the configurations to the correct box, if it is correct it will stick and you will receive praise, if not it will invite you to try again. Open in a flash-enabled browser or windows media player, and maximise the window. I am working on a version for html5. Useful for reinforcing the basis of the periodic table.