Preschool autonomy resources
Keeping your class engaged with fun and unique teaching resources is vital in helping them reach their potential. On Tes Resources we have a range of tried and tested materials created by teachers for teachers, from pre-K through to high school.

Breathe new life into your lesson plans with our elementary, middle school and high school classroom resources. Whether you're looking for fun math worksheets or brand new guided reading activities, we have thousands of free and premium resources for you to download. From kindergarten to elementary you'll find K-5 resources, including phonics worksheets and numeracy games. From middle school through to high school we have everything from Spanish lessons to algebra activities, as well as Common Core-aligned lessons and revision guides for tests.
Read more
This is your chance to buy all my outstanding American West resources bundled up for a massive saving. These resources are tried and tested. They are suitable for a wide range of abilities and will successfully engage your students. For more information, click on the resources.
PowerPoint slides and Teacher's notes booklet to explore and celebrate the culture of First Australians.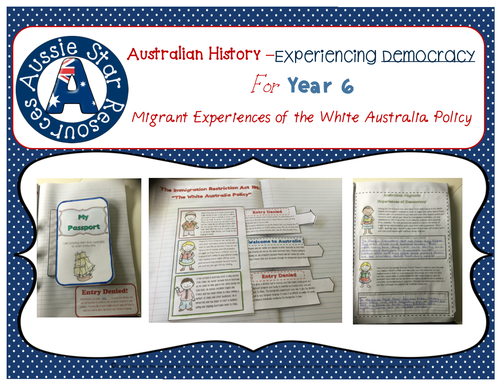 This product consists of three engaging and hands on activities to help your Year 6 students explore and understand the experiences of democracy by Australian migrants. This product specifically looks at the dictation test, the deportation of Pacific Islander workers and the internment of migrants during war time. This product endeavours to give students a first hand experience of the dictation test given to migrants on arrival in Australia and requires them to reflect on this to develop empathy and understanding of this experience for migrants. Additionally there is a foldable activity with pull out tabs so students can compare the experiences of European and non-European migrants. Finally students are asked to read and reflect on the treatment of Pacific Islander workers and war time detainees and discuss how this relates to their understanding of democracy. This resource complements the following Australian Curriculum content descriptors and their elaborations. Experiences of Australian democracy and citizenship, including the status and rights of Aboriginal and Torres Strait Islander Peoples, migrants, women and children (ACHASSK135) Examine different viewpoints on actions, events, issues and phenomena in the past and present (ACHASSI127) This resource can be purchased as part of our Experiences of Democracy Bundle. Check it out here: Year 6 Australian History Experiences of Democracy BUNDLE Save 20% Check out our other "Experiencing Democracy" Resources on our TES shop. Australia Year 6 Australian Curriculum Australian History Indigenous Australians Democracy Democratic Rights Migrants Migration Pacific Islander Dictation test White Australia Policy Immigration Restriction Act 1901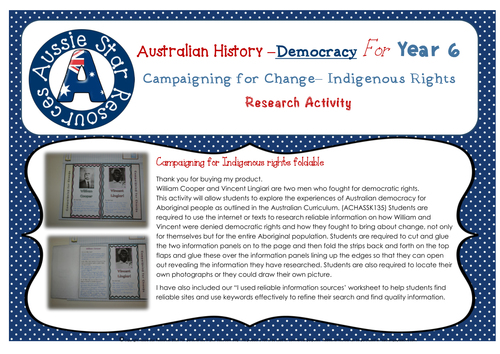 William Cooper and Vincent Lingiari are two men who fought for democratic rights for indigenous Australians. This activity will allow students to explore the experiences of Australian democracy for Aboriginal people as outlined in the Australian Curriculum. (ACHASSK135) Students are required to use the internet or texts to research reliable information on how William and Vincent were denied democratic rights and how they fought to bring about change, not only for themselves but for the entire Aboriginal population. Students will investigate "the lack of citizenship rights for Aboriginal Peoples and Torres Strait Islander Peoples in Australia, illustrated by controls on movement and residence, the forcible removal of children from their families leading to the Stolen Generations, and poor pay and working conditions" as defined in the Australian Curriculum. Students are required to cut and glue the two information panels on to the page and then fold the strips on the left side of the top flaps side back and forth and glue these over the information panels lining up the edges so that they can open out revealing the information they have researched. Students are also required to locate their own photographs or draw their own picture. I have also included our "I used reliable information sources' worksheet to help students find reliable sites and use keywords effectively to refine their search and find quality information. This resource can be purchased as part of our Experiences of Democracy Bundle. Australian History Australian Curriculum Australian Democracy Year 6 Vincent Lingiari William Cooper Government Rights ACHASSK135