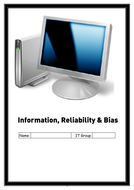 Information Reliability and Bias Worksheets
Information Reliability and Bias Worksheets Several to choose from... or use the lot.
Read more
About this resource
Info
Created: Oct 28, 2011
Updated: Jan 10, 2014
Other resources by this author
This is a funny script taking around 10 minutes to perform. It is essentially about a knight plucking up the bravery to ask out the prince/princess...
clickschool
https://www.clickschool.co.uk/seatplan **LATEST**: Online seating plan generator - paste lists from SIMS or similar, group/distribute students, sho...
clickschool
The idea is that students complete them on the computer, then upload to their eportfolio/VLE. The worksheets can be modified to suit your requireme...
clickschool
Popular paid resources
An hour long, fully resourced lesson focusing on the dangers posed by the dark web, the differences between the dark and the visible web and conseq...
EC_Resources
12x fully resourced, highly-rated PSHE lesson packs and units suitable for Year 11. From Revision and Study Skills, Living Independently, Finance a...
EC_Resources
12 Resources

25% off

$11.84

$

8.88
8 page PDF document with a Karnaugh map on each page. Answer booklet included showing groups and final solutions. I have used these sheets after te...
moggga
Updated resources
Due to the prevalence of technology, cyber security is one of the greatest opportunities and threats humankind knows. Your pupils will already use ...
BritishArmySupportingEducation
A guide to Computing in the Early Years with iCompute, including ideas for incorporating computing in the Early Years Foundation Stage.
iCompute
Blank revision templates focused on unit 3.1.7 of AS and A-level Physical Education content, covered in book 1 - Hodder Education. Summary sheets p...
egb_00