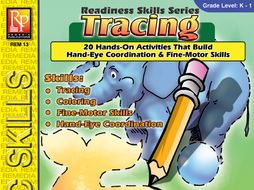 Tracing: Readiness Skills
Improve eye-hand coordination! Students will get plenty of practice honing their fine motor skills with the 22 creative tracing exercises in this book.

Whether tracing zigzag lines through a maze, completing interesting pictures, or outlining letters of the alphabet and words like "fish" and "good," children are sure to have fun while learning.

Read more