Top secondary science schemes of work
Popular units of work to inspire and help ease planning for the new term in biology, chemistry and physics
With the Christmas holidays soon upon us, it's time to prepare work ahead of exam season. To ensure that your pupils are motivated from the start of term, we've hand-picked a selection of the top schemes of work for each of the sciences.
**This resource has been recommended by the TES Resource Team**
Get your learners thinking about electricity and electric circuits. My most popular resource includes:
• A lucid and logical 69-slide PowerPoint which includes many visual aids. The slides are thoughtfully animated (not over-animated) to allow opportunities for learners to participate and promote class discussions.
• Seven pages of interactive notes (scaffolded notes). These notes fit perfectly with the presentation. I find this activity keeps lower-level students engaged during the lessons while allowing differentiation for higher achievers.
• A crossword (with answers), some homework questions and a quiz.
**Just print and go! Or customize to fit the needs of your class.**
Learning objectives covered in this resources are listed below.
• By the end of these lessons, pupils should know:
1. that electricity is a form of energy.
2. that current electricity can be produced from cells, batteries or the mains
3. that there are a range of appliances in the home, which use electricity.
4. that we can represent components by symbols.
5. that current electricity flows in conductors but not in insulators.
6. that a complete path is needed from one side of the battery to the other for electricity to flow.
7. how a switch works.
8. that there are two types of circuit, series and parallel.
9. that current is measured in Amps.
10. that current is measured using an ammeter.
11. how to connect and use an ammeter.
12. that in a series circuit, the current is the same all the way round the circuit.
13. that in a parallel circuit, the current is shared but not lost or used up.
14. that the current in a series circuit depends upon the number and type of components used.
15. that a battery is a store of electrical energy.
16. that voltage is a measure of the amount of energy or push given to the current.
17. that more cells in series equals more voltage.
18. that the effect of voltage upon current and bulb brightness.
19. that an electric current causes a wire to become hot. .
20. that the bigger the current, the higher the temperature of the wire.
21. that if too much current flows, the wire will melt.
Hope you find it useful. Your feedback is much appreciated.
By
sciencecorner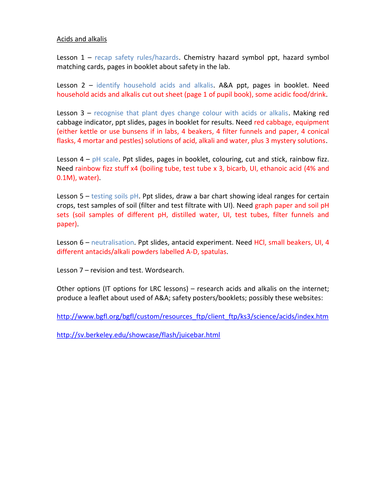 Contains outline lesson plan, powerpoints, pupil booklet and associated documents. Aimed at low levels (2-4max) so simple language and lots of images!
By
alexharrison101
Scheme of Work for the new AQA GCSE focusing on the following:
• All, Most, Some learning objectives
• Lesson structure ideas (differentiated)
• Maths skills
• Apparatus techniques
• Keywords
• Creative homework ideas

Document is colour coded for literacy based tasks and proof of progress tasks.

Please ask if there are any questions about the lesson structure, as I have completed all of these lessons.
By
paigemcdonagh
Resources for new GCSE AQA Physics 2016 specification.
Bundled lessons cover the Energy and energy resources content of the GCSE.
This includes:
- Changes in energy stores.
- Conservation of energy.
- Energy and work.
- Gravitational potential, kinetic and elastic potential energy.
- Energy and efficiency.
- Electrical appliances, Energy and Power.
- Energy transfer by conduction.
- Infrared radiation.
- Infrared radiation, surfaces and the Earth.
- Heating and insulation.
- Energy demands, Fossil fuels, Nuclear Power and Biofuels.
- Renewable Energy Resources.
For clear detail on aspects of each lesson please review each lesson bundled into the packaged to ensure it meets your requirements. I hope this gives you and your pupils a great start to the new Physics GCSE.
I do update each lesson in the bundle with new and varied content as I often revisit lessons to further improve them.
By
Nteach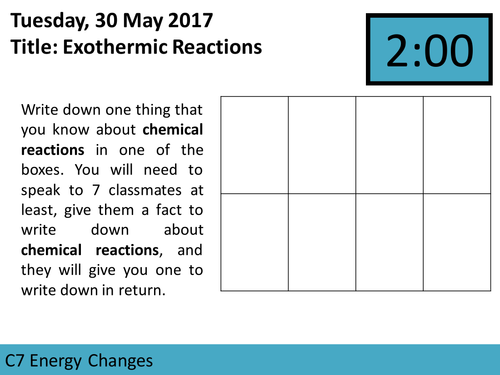 This is a sequence of lessons that I use for teaching the topic C7 Energy Changes for the new AGA GCSE. This can be used to teach students following the Trilogy Specification. These lessons cover 5.5 Energy Changes and Required Practical 10 from the Chemistry Specification.

The lessons in the sequence of lessons are:
L1 Exothermic Reactions
L2 Endothermic Reactions
L3 Investigating Temperature Change - Required Practical
L4 Reaction Profiles
L5 Bond Calculations

Also included in the accompanying scheme of work. These lessons can also be downloaded separately from my store.
By
ScienceTeacherXX
This fully editable PowerPoint helps you teach the new OCR 21st Century 2016 B1 unit. It covers: plant and animal cells, bacteria cells, how genetic information is stored in the chromosomes, using microscopes, the relationship between genes, chromosomes and DNA, how variations can be genetic and/or environmental, DNA in more detail including the role of nucleotides, how cells make proteins, genetic mutations in DNA, the genetics of sex determination, definitions of key terms such as dominant, recessive, homozygous and heterozygous, how characteristics are inherited, monohybrid cross diagrams and punnet squares, the work of Mendel, the Human Genome Project, genetic testing and its ethical issues, how genetic engineering is done, advantages and disadvantages of genetic modification.
By
EUP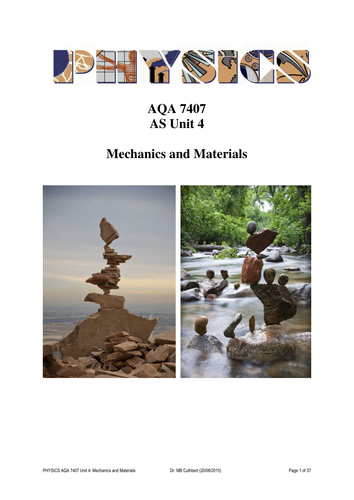 I have started creating notes for my students on the new Alevel starting in September 2015. Please feel free to use. I know that these notes are particularly helpful for revision, flip teaching and for students who struggle to take notes in class. I will add all of the other units as I prepare them. I would love to have some feedback if you have a moment.
By
Dr. Michele Cuthbert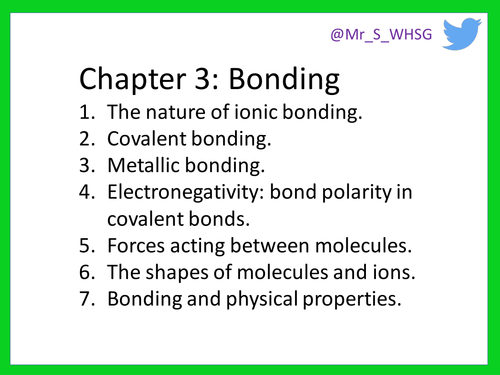 A presentation to teach the bonding section of the new AQA chemistry A level.
Topics include:
Ionic bonding
Covalent bonding
Metallic bonding
Electronegativity
Intermolecular forces - including hydrogen bonding.
Shapes of molecules and bond angles.
Properties of structures.
By
Mr_S_WHSG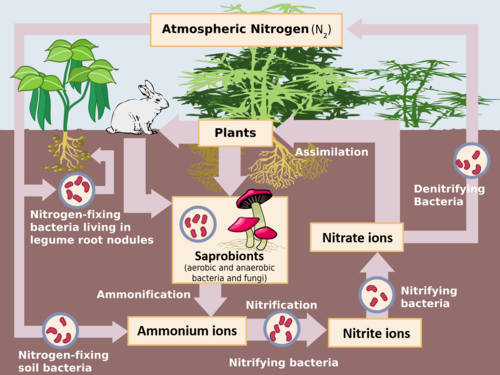 Complete set of pre-work, PowerPoints, bespoke student class notes, any additional resources and marks schemes for (approximately) eight 1.5 hour lessons covering Year 2 topic no. 13: Energy & ecosystems.

These resources have taken several hours to develop and are offered here for a bargain, considering the amount of work that has gone into producing them.

In this bundle, the class notes, PowerPoints and all other resources are fully editable to suit your style of teaching. They make reference to, and may require students to access both the Toole & Toole and AQA A Level Biology Student Book 2 (Lowrie & Smith) for some independent study.

The pre-work contains links to websites and also requires students to complete a topic glossary (in the folder dividers), which are also available on TES, along with accompanying images. It is important students complete the pre-work prior to the lessons because they are then tested on their understanding of the pre-work throughout the beginning of the topic.

The topic overview sheet is for students to write up their notes after the topic has been taught and an exemplar topic overview has been included in this bundle.

If upon purchasing these resources, you need any support, I'll do my utmost to help.
By
Andrew Oldfield