Whole-school ways of knowing resources
Keeping your class engaged with new and interesting classroom resources is vital in helping them reach their potential. With Tes Resources you'll never be short of teaching ideas. We have a range of tried and tested materials created by teachers for teachers, from early years through to A level.

Breathe new life into your lesson plans with our primary and secondary classroom resources. Whether you're looking for fun maths worksheets or brand new guided reading activities, we have thousands of free and premium resources for you to download. From early years to primary, you'll find phonics worksheets and numeracy games and all you need to revise for Sats. From secondary to post-16, we have everything from French lessons to algebra activities, as well as GCSE revision guides and more.
Read more
This is approximately a 2 hour research project for the IKS Area of Knowledge for the TOK course for the IB Diploma. Students should work in groups to complete the activities in the first two activity sheets, using the mind map template to help structure their arguments. They should then individually complete the personal reflection activity.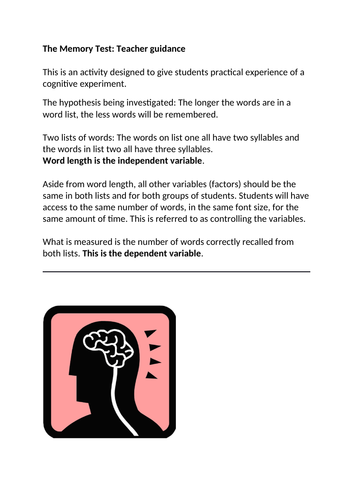 A memory test designed to give students a practical experience of the basic features of cognitive experiments - useful as starter/plenary activity or to foster discussion about the issues with this approach. Would also be useful for TOK teachers looking at memory as a WOK or at psychology as a human science.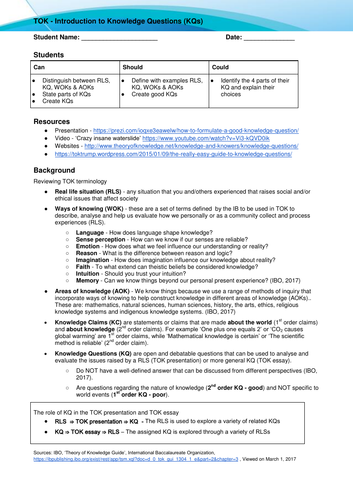 This is a student worksheet to help them distinguish between Knowledge Claims (KC) and Knowledge Questions (KQ). Further to distinguish between 1st and 2nd Order KCs and KQs. Links are provided to resources on the WWW specifically a presentation, video and webpages used to support the lesson. Lesson length: 45 to 60 minutes Document size: 3 pages Includes background information (page 1) and worksheet(page 2) for the student and an answer key (page 3) for the worksheet at the end of the document.
IB DP Theory of Knowledge (TOK) Presentation on Perception WOK A useful presentation with questions to engage students to explore and discuss the strengths and limitations of perception as a way of knowing (WOK). Presentation included as a 'show' file for fast viewing (don't need PowerPoint software) and as a 'presentation' file for editing in PowerPoint.
Website for students and teachers with lots of videos, visual illustrations, worksheets, Prezis and PowerPoints on Theory of Knowledge issues, ways of knowing and areas of knowledge. It contains an ethics page, a philosophy page and a forum as well. Best to use with Richard van de Lagemaat's textbook, but this is not essential. It now includes the new ways of knowing, knowledge questions, knowledge frameworks and other references to the new specification.