Mister Harms
All things Social Studies...and some other fun stuff!
24Uploads
8k+Views
338Downloads
All things Social Studies...and some other fun stuff!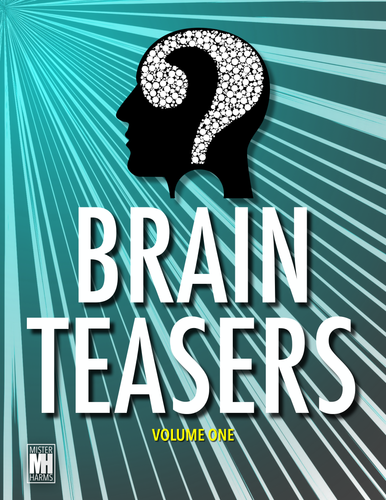 Everyone loves riddles, logic puzzles, and critical thinking. Expand your students' brain power with this set of Brain Teasers to use as brain breaks! What's Included: • 30 different Brain Teasers in 2 great formats! (worksheet / pptx) • 3 worksheets of 10 Brain Teasers each (to use as handouts) • 1 stunning powerpoint of 30 Brain Teasers (to use as whole group) • Answers to all 30 Brain Teasers are included • There are 20 medium difficulty teasers and 10 even more difficult teasers. These Brain Teasers are great to use as class fillers in that final 5 minutes, a bellringer at the beginning of class, use them as a center activity, or maybe as a fun day. You may even want to include one Brain Teaser at the end of each chapter test as an extra credit bonus question (my students love this). Make it an ongoing competition by projecting the PowerPoint and having groups race to complete a few Brain Teasers every Friday. Whatever the format, you and your students will love these Brain Teasers! You can also get Brain Teasers: Volume 2. Enjoy teasing your brain and thank you so much for your ratings and feedback!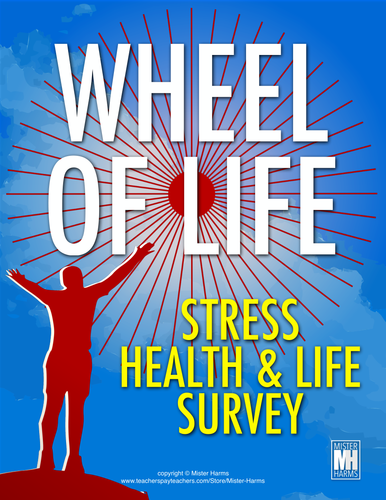 Great for any Psychology or Health class, students will take a self-reflective survey regarding their own mental health, physical health, personal life, and more. Answering 6 questions each in 8 areas of their lives, students will complete a total of 48 questions. With the results, students will map out their scores on the included "Wheel of Life." This wheel is a great visual to see how their life is "rolling along." This life assessment survey is a great way for students to assess where they are at in life, give them encouragement where they are succeeding, and shed a light on areas for improvement. Stress, health, and life are all measured in this activity. As a teachers, you may even want to fill it out yourself. I know I do from time to time. This may be used in any health or psychology class. I use this during my Stress, Health & Disorders unit within my Psychology classes. Download the preview for a sample look at the questions and format. Enjoy this life changing lesson and thank you so much for your comments and ratings. What's Included: - 4 worksheets of 12 questions each (48 total questions) - 6 questions on Physical Health - 6 questions on Mental Health - 6 questions on Spiritual Health - 6 questions on Financial Health - 6 questions on Family Health - 6 questions on Social/Relationship Health - 6 questions on Time/Productivity Health - 6 questions on Lifestyle Health - 1 worksheet with the "Wheel of life" to map out results - Reflection questions for students to complete and discuss: How is your life is rolling along? What areas are going well? What areas are flat and need improvement? Like any wheel, what areas need attention and some extra maintenance? What practical items need to be addressed?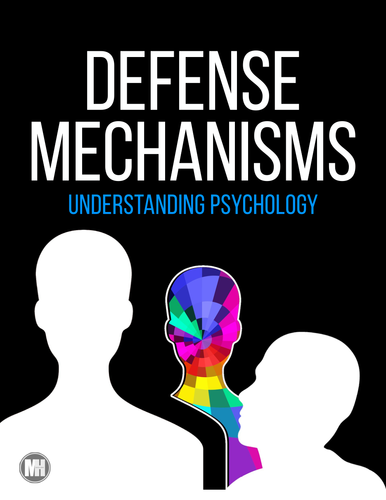 Teach your psychology class about defense mechanisms with this content-rich, mini lesson. Sigmund Freud believed that in order to deal with conflict in life, an individual's ego puts up various defense mechanisms to ward off undesired stress. So what are the various tactics that we as individuals use to avoid conflict and undesired scenarios? This lessons is definitely "on-point" and will give your class the important understandings of the 8 major defense mechanisms. The best part is that there is no prep for you, except downloading and printing! Enjoy and if you have time, I'd appreciate your feedback and rating! What's Included: • Step by step guide in how to conduct and lead this mini-lesson. • A link to an online text for students to read about the various defense mechanisms • PowerPoint set of notes for whole group instruction that includes a definition and example of the 8 major defense mechanisms. • Follow up activity for student engagement and reinforcement. • 16 question worksheet to use for assessing student understanding. This worksheet has 16 different scenarios that students will have to match with the appropriate defense mechanism. (For example: _________ After he is disciplined by his parents, Mikey tends to bully and tease his younger brother and sister.) Answer key is included. The 8 defense mechanisms studied are: denial, regression, repression, sublimation, reaction formation, rationalization, projection, and displacement.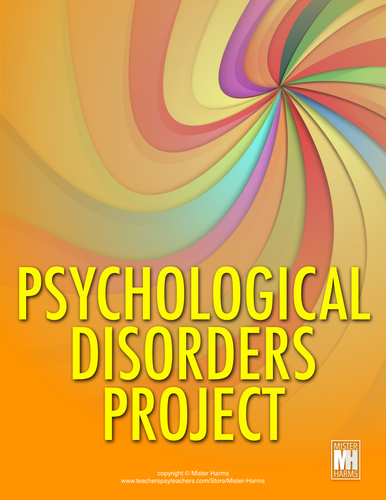 Want a project for your psychology students? Students can use this guide to research, write and present information on a psychological disorder of their choosing. This is an excellent project for a psychology class or any course discussing mental health and mental illness. You may assign students to present in any format desired: Powerpoint, presentation, Prezi, research paper, etc. A student instruction guide, teacher rubric, and helpful websites are all included. Information Included: - Psychological Disorder - Symptoms - Causes - Prevalence - History - Treatment - and more....