Celebrating good behaviour
Ready-to-use resources to help you to reflect on and reward good behaviour at the end of the academic year
With the summer break in sight, it's an ideal time to reflect on how hard your class have worked this year and reward their efforts before they move on. Not only will this wrap up the end of the year on a positive note, but it can also boost self-esteem and motivate learners to work hard in the future.
Give your classes the recognition they deserve with these hand-picked resources, from individual acknowledgements to fun, whole-class activities.
Individual rewards
Handing out certificates is a simple way of celebrating hard work, effort and commendable character traits. This collection of sailor-themed certificates are great for primary pupils, containing 70 editable, visually appealing awards. Alternatively, get your class to nominate their peers for one of these colourful certificates.
For a more practical reward, these celebratory bookmarks can be personalised, laminated and used beyond the classroom. Finally, the end of the year is the perfect time to send a positive message home by using this editable postcard template.
Whole class rewards
After recognising individual achievements, give young learners a break from the curriculum and with these engaging end-of-year games, including freeze dancing, word games and finger aerobics. Meanwhile, older students will love the challenge of answering this bumper end-of-year quiz in teams as they recap the major events of the year.
Why not set aside a whole day to reward your hard-working pupils? From taking small groups to events outside of school to in-class craft, filmmaking or musical activities, this resource pack provides a detailed proposal and presentation for organising a fun-filled day. Plus, take the time to reflect on the great achievements of the year with this fun reflection game.
This resource is a fully editable and highly visual 100-question PowerPoint end of year quiz. It is an ideal resource for an assembly, a lesson or with a tutor group. The quiz contains 100 questions, most contain multiple choice answers, with varying degrees of challenge on:
News
Sport
General knowledge
Famous People Picture Quiz
TV and Film
Music
Literature
Picture Round
The quiz can be administered in a variety of ways - to individuals or teams. The answers can be found by clicking on the question mark image on each slide. Answers can be given either as you go through the quiz or at the end. An answer sheet is provided to allow individuals/teams to record their answers.
This resource is also suitable for SEN students due to the multiple choice format.
More Quizzes
Thinking of publishing your own resources or already an author and want to improve your resources and sales? Check out this step-by-step guide:
How to Become a Successful TES Author: Step-by-Step Guide
By
Krazikas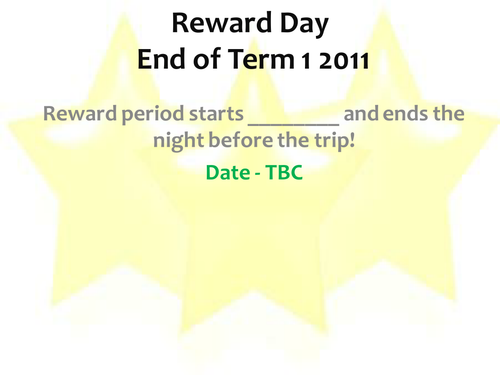 This is a proposal and a powerpoint used to introduce the concept of a whole school reward day to award the well behaved pupils in the school and to encourage positive behaviour.
By
Miss R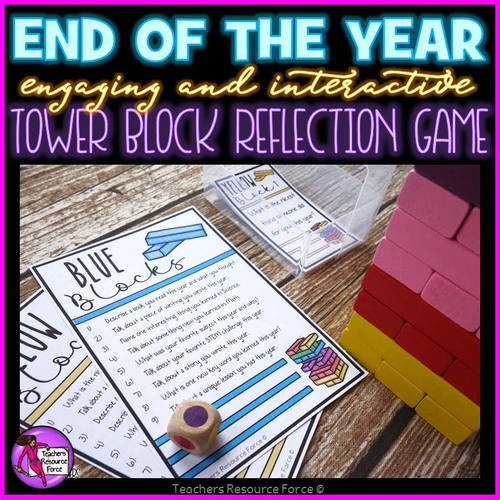 End of the Year Jenga style hands-on reflection game.

​Here's a really unique and fun idea to reflect on the academic year as a whole group or small group, where you can really bond with your students and be assured that everyone will have a blast!

This end of year reflection activity uses the concept of the game Jenga where students build a tower and remove pieces stacking them on top whilst trying to not knock the tower over or to build the tallest tower! The set used in this activity is simply adorable isn't it, and each activity is colour coded to coincide with the set.

This end of year reflection game can be used in 4 different ways to suit your budget, needs, resources and preference so it's really versatile! I have also included both colour and mono versions of each set which you can print onto coloured paper instead to make it more ink friendly for you.

There is also a digital, interactive option as well where no printing is needed at all - you're fully covered with this pack!

What this resource includes:
• 54 end of the year reflection questions
• 3 different printable options
• colour and black and white options
• an interactive 60+ slide PowerPoint
• comprehensive teacher's notes

The benefits:
• no need to stick anything to your blocks
• 4 differentiated ways to play
• different printing options to save money if necessary
• a paperless option
• ideas for competitive ways to play as a class
• suitable for a wide range of age groups
• questions accessible to all students
• an engaging and fun way to bond and reflect as a class

So take some time at the end of the school year to reflect with your students on how far you've all come together, in an exciting, engaging and happy atmosphere - what a wonderful way to finish the year!
By
TeachersResourceForce