Grids, templates and markbooks to help you mark pupils' work in French, German and Spanish
It's mock exam season and there's a pile of speaking assessment reports, writing assignments and more student papers to be marked sitting on your desk. We know marking can be time-consuming, so we've collected these handy resources to help you.
General MFL marking resources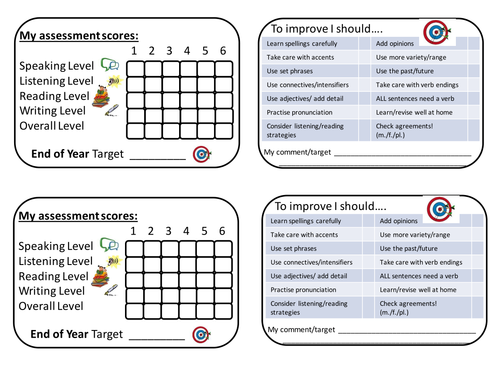 Labels (4 to A4 sheet) to stick on front of exercise books/folders to track progress and give targets (through tick-boxes) to students - for MFL but could easily be adapted. I would print these on to self-adhesive sheets. Students or teachers can record levels/marks and highlight or shade in colours to show progress visually - never let them be flummoxed by those questions - 'Do you know what level you are? What do you need to do to improve?&'
By
rpjk1988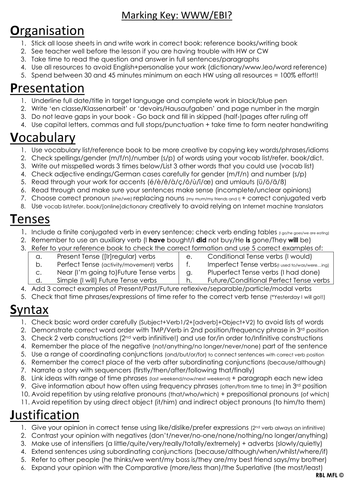 Helas, Levels and grades have changed or disappeared, but the need for AfL is still paramount. Out of a desire to give specific feedback on students' written work without stamps/stickers/postits/sheets, this marking key was born.
METHOD: Mark students' work with as much detail as you desire (correcting everything/underlining errors or simply ticking in the marrgin), before adding in red pen a variation of the following example (personal comment/What Went Well.../Even Better If...):
Très personnalisé- bravo!
WWW:
O5
P1
T3a
EBI:
V3
T1
S4
S5
FOLLOW UP: The next lesson, students write up their own or peer targets in full sentences base don the marking key in green.
HOMEWORK: Redraft the piece of work.
EXTENSION: Students mark their own or peer-mark others' work with the marking key to develop independence.

PLEASE FEEL FREE TO ADAPT THE DOCUMENT!
By
trumpetrich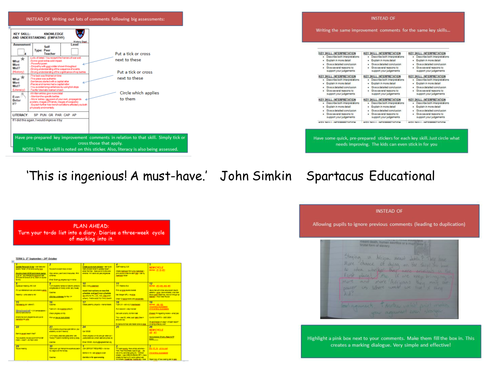 You will save countless hours of marking time with these ingenious ideas.

INSTEAD OF......(common mistake), try................(new time saving solution!)

These are highly praised and have been adopted at whole-school levels.

50 great ideas with scanned examples

(If you search '300 lesson activities - you will see that my products are popular here on TES. This product is just as good!).



By
whizzbangbang
Speaking and writing marking resources
Looking for GCSE revision resources?
Check out our GCSE collection which is constantly updated with new resources, hand-picked to help your students pass their final exams with flying colours.