Preparing for the phonics screening check
Stimulating ideas to help Year 1s secure their understanding of phonics ahead of the screening check
Teaching phonics is an essential part of improving both reading and language skills for young students. And, with the screening check on the horizon, we know it's particularly important to find engaging ways to recap the same old content. To help you do just that, we've packed our primary national tests hub with teacher-led revision lessons, student-led activities and practice questions. Here are just a sample of the quality assured resources you will find...
A selection of three phonics practice papers to use with your year 1 class in preparation for the screening test.
The papers contain original content, but are all based entirely on past papers, progressing from simple cvc phase 3 words to more complex phase 5 words.
There is an accompanying PowerPoint presentation with each paper, so that you can choose to work with the whole class or individuals.
An answer sheet and tick sheet are also included.

PDF file format.
By
Blossoming Minds
For each of the Phonics Screening Tests there is a word generator. Press s to stop them spinning and enter to carry on.

Take a look at our video video to see it in action.

Tests included: 2013, 2014, 2015, 2016, 2017 and 2018
By
FunkyPhonics
A set of flashcards that can be added to rings to support Phase 2-5 Phonics

Includes Phases 2-5 sentences
Phases 2-5 Tricky Words
Nonsense words to support the phonics screening test

Print the words on corresponding coloured paper to make it look extra cute and add to a binding ring!

Perfect for a phonics activity or to place in the reading area for independent practise!
By
princessdani22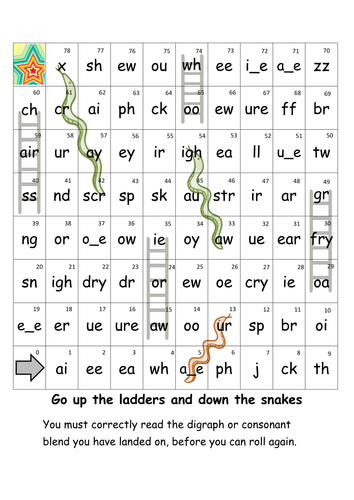 I made this snakes and ladders type game to help reinforce all the graphemes up to phase 5 as prep for the screening test. Also sneaked in some consonant blends too. I'll use groups of three with my phonics group and enlarge the document to A3. You can change any of the graphemes to meet the needs of your learners.
By
e_bray
This resource consist of 100 alien word flashcards and 100 real word flashcards to use in preparation for the phonic screening check. The words reflect the phonics content in the current national curriculum, and include multi-syllable words and the more unusual graphemes which have appeared on previous papers such as oe, au, e-e, ore, ie and ue. These flashcards can be used for teaching and also for sharing with parents. The resource is fully editable and the images are copyright free. Please see my other phonics resources including all you need for an 'Alien Day' of fun phonics challenges.
By
magicinkstand