Early years Spanish resources: grammar and punctuation
Keeping your class engaged with new and interesting classroom resources is vital in helping them reach their potential. With Tes Resources you'll never be short of teaching ideas. We have a range of tried and tested materials created by teachers for teachers, from early years through to A level.

Breathe new life into your lesson plans with our primary and secondary classroom resources. Whether you're looking for fun maths worksheets or brand new guided reading activities, we have thousands of free and premium resources for you to download. From early years to primary, you'll find phonics worksheets and numeracy games and all you need to revise for Sats. From secondary to post-16, we have everything from French lessons to algebra activities, as well as GCSE revision guides and more.
Read more
Spruce up your classroom for the new term! A collection of reference posters in Spanish, in 72 font so legible in class. Days and months, numbers, alphabet, colours. Illustrations where appropriate to enliven text. Occasional grammar points to reinforce, eg. agreement of adjectives. Laminate for a long lasting display to support students learning.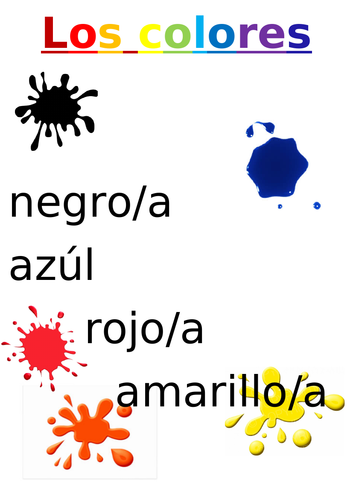 Spanish colours for display purposes. Illustrated with paint splats, and containing examples of agreement of adjectives.
A lesson that uses characters and a video from the film 'Up' to explain to students how to use Me gusta Te gusta Le gusta Example constructions in the lesson: A Russell ______________ el chocolate. A Kevin ______________  el chocolate. A Russell ______________  el ave Kevin A Sr. Fredrickson ______________ el ave Kevin A Kevin _____________ Russell A Kevin ______________  Sr. Fredrickson A Russell ______________ los perros. (plural!) A Kevin ______________  el perro A Sr. Fredrickson ______________ los perros. (plural!) EXTENTION: A mi , ___________ porque es ___________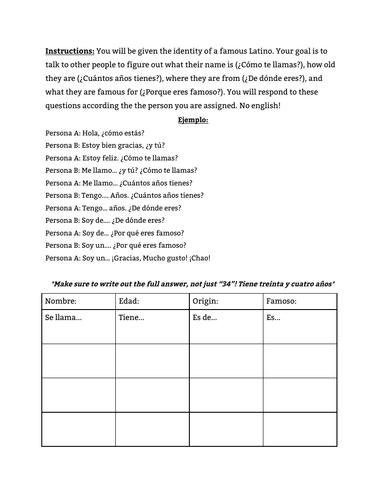 Students are given the identity of a famous Latino. Their goal is to talk to other students to figure out what their name is (¿Cómo te llamas?), how old they are (¿Cuántos años tienes?), where they are from (¿De dónde eres?), and what they are famous for (¿Porque eres famoso?). Students then respond to these questions according the the famous latino they are assigned, and copy down the responses of their peers. Can be easily extended where students go home and write down more information about the person they were assigned, create an instagram page for the person they received, etc. Heavy focus on communication on basic spanish questions, and writing in the third person - mixed with culture.
This resource includes the following with very minimal prep needed for about a week of lessons! -Vocabulary introduction for Spanish animals/pets -Vocabulary introduction for parts of the body/animal body parts -Adapted article about pets in Spanish -Activity where students create their own facebook profile for a pet (describing things they like, adjectives, birthday, etc) -Interactive group and communicative activities creating animals -Fun songs and listening activities -Writing activities and prompts One of my favorite parts of the unit on animals and pets to teach :) Hope you enjoy!