Getting to grips with challenging behaviour
Confidently tackle poor behaviour and encourage learners to reflect upon their actions with these accessible tools
Although no classroom is always full of angels, there may be times when students' behaviour reaches unacceptable levels. Knowing when to intervene is vital for keeping disruption to a minimum, but doing so in an approachable manner can be tricky.
To help you out, we've selected some of our favourite resources, that will give you the tools to tackle more challenging behaviour while encouraging pupils to take responsibility for their actions.
Managing challenging behaviour
Understanding why pupils act in a certain way is one of the first steps to an effective intervention. Get to grips with the causes behind poor behaviour with the help of this comprehensive booklet, before reflecting upon your classroom management style with this thought-provoking pack.
Establish positive relationships with more difficult students using this intervention unit, which will encourage learners to focus on why they make decisions that will get them in trouble. Or, why not watch this informative video, jam-packed with ideas on how to be more assertive in hostile classroom environments?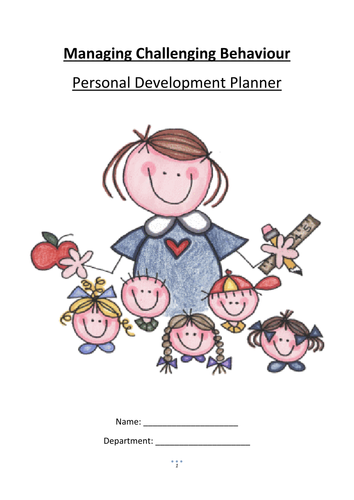 This booklet is in two modules, first 'setting the scene&' where issues surrounding the behaviour of children in school today are discussed. Second &';personal attitudes' are examined through quizzes such as classroom management styles, causes of different behaviours and feedback from self assessments.
By
WillsonEducation
This course is aimed at establishing a 'relationship' with a difficult child; looking at who and what they trust and why they make the decisions which get them into trouble. It differs from other 'About me' interventions as its main focus is on poor behavior, difficult relationships, poor decisions and choices of the student.
FACILITATOR NOTES
This course digs quite deep into the child's life and who is in it. Prepare yourself for possible student out bursts or eruptions of emotion whilst they go through the process.
REFERRAL CRITERIA
Swearing at staff/parents/family
Persistent refusal to follow instructions
Any level of verbal/physical abuse
Violent outbursts
Getting into trouble with the police
WHY THIS INTERVENTION?
Does your child exhibit any of the following behaviours?
(Some may not be connected to the issues within the family but they may be exhibiting them at school.)
Self injury/harm
Withdrawn/loner
Openly expresses alcohol and drug use
Expresses worthlessness/ fear/ anxiety
Difficult relationships at home
Disengagement in school
LENGTH OF INTERVENTION
The sessions are divided into roughly one hour x 6 weeks plus follow up session, however, depending on the age and concentration level of your child you could split the sessions further. Each session will have 3 worksheets to complete, you could do one at a time.
BASIC OVERVIEW OF THE INTERVENTION SESSIONS
Getting to know me – How the student views themselves, school and those around them.
Who do I need? – This session focuses upon who is important in their lives, good and bad!
Who am I? – This session is regarding what aspects of the child's personality, affects their actions and attitude towards anger.
Red mist – This session is recognising that anger is often at the heart of poor behaviour, so how does anger affect them?
Stuck in the middle – This session deals with looking at behaviours from a different perspective.
Look at all that I have – This session is all about looking at what they can change and to plan for issues and deal with them, when they come up.
Ongoing support – looking to the future using the lessons learned.
By
Sunshine-Groups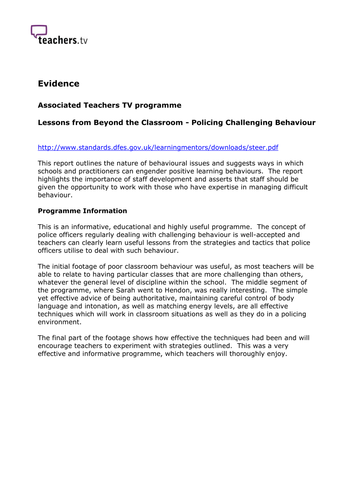 Science teacher Dr Sarah Longshaw visits a police training academy in an effort to learn how to gain more control over her Year 10 class. She receives a behaviour management lesson from police trainer PC Donna Gair, PC Gair trains the recruits in verbal and non-verbal communication skills, which will enable them to take control of difficult situations. Will PC Gair be able to help Dr Longshaw to be more assertive in the classroom and in turn enable her Year 10 students to take more control of their own behaviour?
By
Teachers TV
Encouraging responsibility
Repair relationships and help students recognise the impact that their actions have on others with this restorative justice workbook, designed to prevent future conflicts. Similarly, this emotional intelligence pack is ideal for helping learners identify and communicate their feelings to others in an appropriate manner.
This collection of classroom management sheets is ideal for encouraging older pupils to take responsibility for their actions. Alternatively, younger students can practise responding to emotion-fuelled situations with this twist on a classic board-game.