Early years French resources: other texts
Keeping your class engaged with new and interesting classroom resources is vital in helping them reach their potential. With Tes Resources you'll never be short of teaching ideas. We have a range of tried and tested materials created by teachers for teachers, from early years through to A level.

Breathe new life into your lesson plans with our primary and secondary classroom resources. Whether you're looking for fun maths worksheets or brand new guided reading activities, we have thousands of free and premium resources for you to download. From early years to primary, you'll find phonics worksheets and numeracy games and all you need to revise for Sats. From secondary to post-16, we have everything from French lessons to algebra activities, as well as GCSE revision guides and more.
Read more
PowerPoint presentations, Flashcards, French Advent Calendar, games ... Everything you need for your students this December.
This set includes 16 QR codes for books read aloud with the words provided for students to follow. 10 QR codes for books (5 French, 5 English) read aloud using audio, but do not provide the words for following along. Great resources for your listening centre and/or 5 au quotidien. Your students will require an iPad/tablet with a QR scanner. (I have run the URLS through Safeshare, so there won't be any ads or pop-ups.) The books have been found online using various sites, and as such could be removed from the internet at any time. Should you find a resource no longer works please contact me so that I can alter the resource.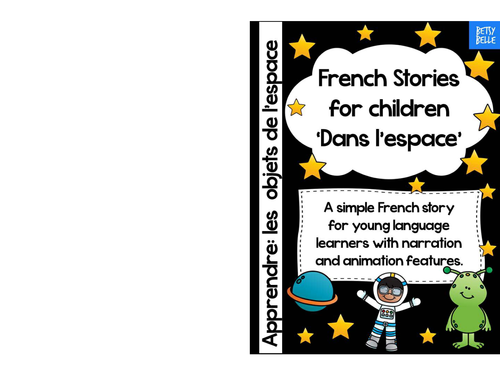 A PDF of my simple French Story for young learners. A boy dreams he is an astronaut and visits he sun, moon and stars at night. He also bumps into an alien! There is a link to a YouTube video with audio features- great for non specialists who will appreciate the audio narrative to double check pronunciation. There are follow up resources available to purchase in my TES Shop including a board game, mini books, self correcting puzzles, worksheets and I can statements. Please consider leaving feedback, it really means a lot to me and helps others to make a decision on what to download.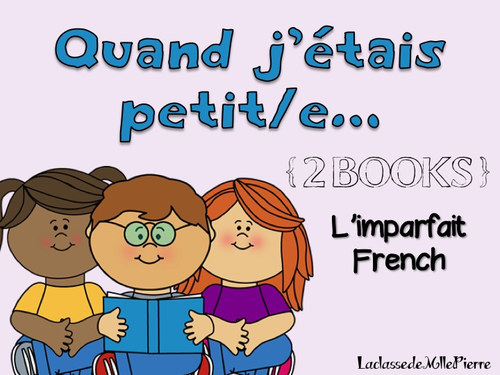 Two versions of the book in the imperfect tense to suit your class (quand j'étais petit et quand j'étais petite). You can also check the Youtube video I made on the same topic: https://www.youtube.com/watch?v=D66r8guvfDc Some ideas how to use it in class: - Simply read the story to French beginners - Work out the meaning of the book in pairs with the pictures as an aid - Show them the first two pages and identify patterns (which tense is it/what are the endings of the imperfect) - Only show the picture and ask the students to write a sentence about it in the imperfect tense following the same pattern (then show them the possible answer) - Ask them to create a similar book in the IT suite or for homework Please do not hesitate to share more ideas in the messages below! Thank you very much! I hope you will enjoy my resources and if you have a question on the book, please do not hesitate to contact me or leave me a message. I would really appreciate some feedback :-) Thank you very much. @EloCamden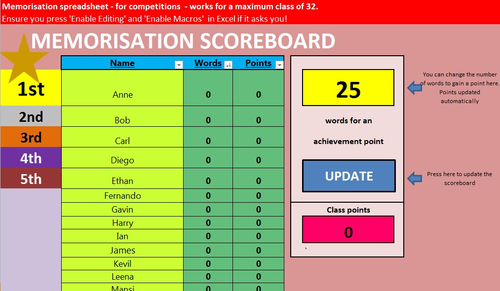 This can be used to help pupils memorise a piece of work and encourages the class to compete to memorise the most. It can be used for any subject. You must enable Macros in Excel for the 'update' button to work.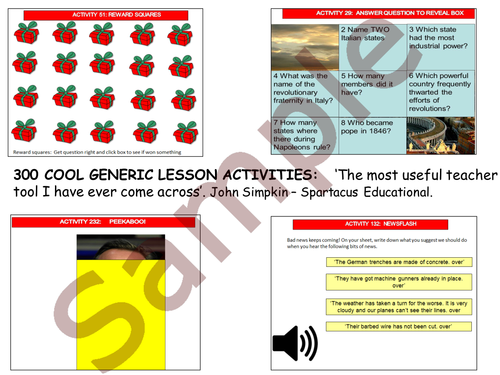 This is a 25% sample of my very popular resource. The full resource can be found by searching for '300 generic lesson activities'. (Following its success in the summer sale, I have kept the sale price of £3). The description for the full file is as follows: Create lessons in seconds with this HUGE PowerPoint of animated lesson activities. There are HUNDREDS of templates that you can over-type in seconds to create engaging lesson material. Highly praised by John Simpkin of Spartacus Educational and Mark Warner of Teaching Ideas. I am very confident you will like this. If you do, please click on my profile to see my other popular resources. Thanks (This file also has a bank of PowerPoint timers) The size of the file should show you how much stuff there is! Without sounding overly confident - it's the best resource out there! Many thanks Copyright T.Taylor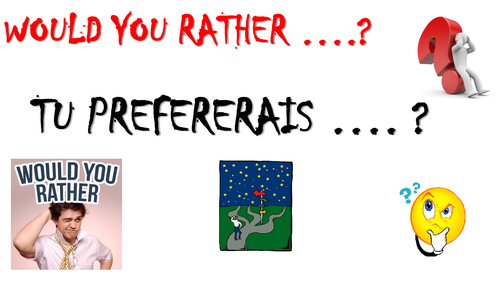 Powerpoint on based on the "would you rather..." game. Good to break the monotony and get the pupils to speak ! Vocabulary fairly straightforward therefore can be used from S1 (they might need a dictionary) to Higher. As for the spelling of préférerais, it seems that the accent is supposed to be acute, but my spelling is not incorrect either. Anyway, feel free to correct it if you want :) http://french.about.com/od/verb_conjugations/a/preferer.htm
A list of differentiated extension activities to have on your wall for when pupils finish their work. Also: I don't know know how to reply to comments yet. Jotters are the Scottish word for notebook I think. The book which pupils do their work in. Also, the triangle refers to a resource the pupils take to their tables everyday. I have also uploaded it and it is called 'French table support -grammar and speaking' Hope that helps