Top planning resources for MFL
Find inspiration for next year's French, Spanish and German lessons in this collection of popular planning ideas
Planning is a vital but time-consuming part of any teacher's life. And, as you start to think about preparing for next academic year, the amount of work can feel overwhelming.
Before you let the panic set in, why not check out this hand-picked selection of lesson plans, schemes of work and presentations? Whether you want to start afresh, or simply supplement existing planning, we've got you covered.
French resources
What better way to welcome young learners into secondary French lessons than by exploring introductory expressions? This detailed lesson plan and presentation, containing a range of engaging activities, is ideal for helping them to master the basics. Plus, this comprehensive booklet, covering reading, writing, speaking and translation questions, is the perfect starting point for KS3.
Alternatively, by adopting a shipwreck theme throughout this sequence of lessons, it's possible to teach themes such as relationships and daily routines, as well as a variety of tenses, in an original and memorable way. Meanwhile, older learners can delve deep into the topic of public order by working on all four skills in this collection of presentations.
This 58 page booklet (including answers) contains new GCSE style reading, writing, speaking and translation questions for Key Stage 3 students.
This booklet contains activities on the topic of Me, my family and friends, from the AQA theme Identity and Culture.
There are 6 subtopics: Introducing myself, family members, pets, physical appearance, personality and relationships.
For each of these subtopics, there are 6 activities: a reading task, translation (short paragraph) from French into English, sentences to translate from English into French, a writing task (short passage similar to the foundation writing exam), a photo (like in the foundation writing exam) and a role-play.
There are also 6 extension activities which bring together all of the subtopics: a longer reading task, a paragraph translation from English into French, a 90-word task, a 150-word task and a photo card (like in the speaking exam).
This booklet can be used in KS3 or for revision in KS4 (foundation). It can either be used to supplement work in lessons as you teach the topic of me, my family and friends, or for assessments. It could also be set as cover work, as the answers are included.
A free sample of the booklet is available here: https://www.tes.com/teaching-resource/ks3-french-me-my-family-and-friends-free-sample-11885449
By
katelanguages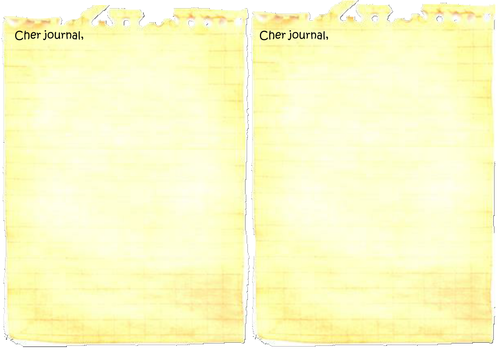 A shipwrecked themed sequence of 8 lessons including: Relationships, Daily Routine, Chores, Negative structures, Reflexive verbs, Imperfect, Preterit, Present and Future tenses. The unit also includes an ICT lesson on La Francophonie and a lesson on Le Seisme de Haiti 2010. Lessons were planned for a mixed ability Year 9 group, differentiated from level 4 to level 7 but unit could equally be used with Year 10/11. There is also a Spanish version of this resource on my page.
By
paloma_blanca
This bundle contains all three parts of the topic 'Comment on traite les criminels'
Part1: Les attitudes envers la criminalité
Part2: La prison- echec ou succes
Part3: Autres sanctions

Each part includes:
a PPT presentation (approx. 30 slides with some answer slides)
Reading, Listening, Writing and Speaking activities
Statistics discussion
video comprehension
Translation French to English and English to French with markschemes
an online vocab learning course link
a vocab test linked to the course.

Activities are exam style questions and differentiated.
Each part is also available for £3.

Click on preview to be able to see what is included in the .zip folders

PLEASE NOTE: if you have previously purchased my resource bundle: L'ordre public (from the old spec), you will be able to download this updated version free of charge.
By
laprofdefrancais
Spanish resources
Familiarise Year 7 classes with essential vocabulary using this resource pack, including an overview of the year, a detailed unit plan and a pupil-friendly learning mat.
As GCSE students develop key skills, ensure their vocabulary is up-to-scratch with this collection of tests, both from Spanish to English and English to Spanish. Be sure to overcome any concerns about the speaking exam with this detailed unit of work.
With older learners, why not develop their use of the subjunctive while studying the environment with help from these lesson plans and presentations?
German resources
Tackle the topics of clothing and weather with this bumper pack, including lesson plans, flashcards and vocabulary sheets. Or, explore humanitarian aid with your A2 learners using this all-inclusive booklet, covering listening, reading and writing skills.
Make sure you spend time perfecting pupils' knowledge of high-frequency verbs with this activity pack, which offers an interactive alternative to traditional grammar exercises. Finally, test them regularly on essential vocabulary with these learning plans.