Whole-school Spanish resources: research and essay skills
Keeping your class engaged with new and interesting classroom resources is vital in helping them reach their potential. With Tes Resources you'll never be short of teaching ideas. We have a range of tried and tested materials created by teachers for teachers, from early years through to A level.

Breathe new life into your lesson plans with our primary and secondary classroom resources. Whether you're looking for fun maths worksheets or brand new guided reading activities, we have thousands of free and premium resources for you to download. From early years to primary, you'll find phonics worksheets and numeracy games and all you need to revise for Sats. From secondary to post-16, we have everything from French lessons to algebra activities, as well as GCSE revision guides and more.
Read more
Research and essay skills
Whole lesson for VIVA GCSE FOUNDATION --> module 8 --> unit 1 --> PIENSA GLOBALMENTE
Paper 3 explained. Examples. Mark scheme guidance. Assessment objectives and marks allocation.
Paper 3 - Speaking (Specimen 1) Cards, Questions, Answers according to Mark Scheme. Research Presentation and exam advice (based on Mark Scheme). 83 slides Use it for exam review or feedback lessons. Embed Speaking Cards on your topic lesson.
Resource best suited to A level students that are studying the text - it's one used by the AQA exam board for paper 2 Written in full Spanish but the footnotes on the presentation give translations of more difficult words mentioned in each individual slide. Can be used as an introductory lesson or, better as a revision lesson. Includes in-depth information on social/historical context Discusses main themes and sub-themes. Explores the structure of the book. Gives an in-depth analysis on the characteristics of all the characters in the play. Summarises each act/scene. Discusses literary methods, like for example the use of space.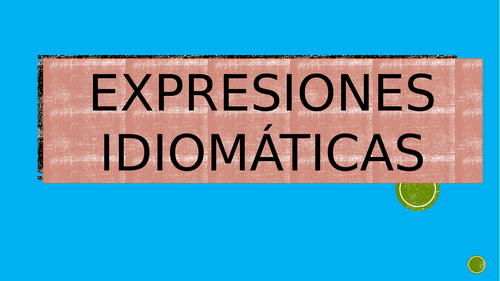 A very detailed and authentic Idiomatic expressions presentation for your students to impress the examiners! It has been elaborated by two native speakers. This presentation has a total of 50 slides and 37 idiomatic expressions. Each of the expressions come with explanatory picture (some memes included) and are used in context with examples based on the new A level specification (most of them using subjunctive tense). Topics such as: crisis económica, fiestas, jóvenes, el Gobierno, igualdad, desahucios… The presentation includes also activities for your students to practise, memorise and learn how to use them. Reading and translation tasks are included.
69 pages Core vocabulary sheets for all main topics. Photo description vocabulary + examples. Bilingual list of key structures for all topics. Sentence builders. Grammar practice. Reading strategies. A+ /9 phrases List of speaking questions for all topics. Exemplar essays and answers to oral questions.
This is a writing template to help Kindergarten, 1st and 2nd grade writers organize their thoughts to include all of the parts of an informational research paper about animals. It is written in both English and Spanish. It aligns to the Next Gen Science Standards K, 1, and 2 Life Science standards. Included: -Writing template (adaptations, habitat, description, fun facts) -Vocabulary Word Bank -Word Wall Word Bank I created this this year for my 1st grade dual language / dual immersion students and it was such a great success that I passed it along for my other Kinder, 1st grade, and 2nd grade colleagues to use. Their kids love it and their expository writing has been improving greatly because they can't forget to put in any of the parts because the parts are part of the template. Copyright © Josh Rageth. All rights reserved by author. This file is to be used by the original downloader only. Copying for more than one teacher, classroom, department, school, or school system is prohibited. This product may not be displayed or distributed digitally for public view. Failure to comply is copyright infringement and a violation of the Digital Millenium Copyright Act (DMCA). Clipart and elements found in this PDF are copyrighted and cannot be extracted and used outside of this file without permission or license. Intended for classroom and personal use only.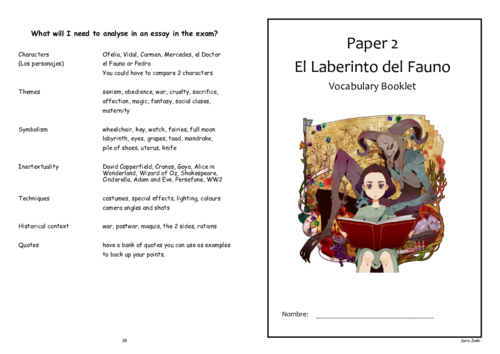 This resource is a 32 pages vocabulary booklet for students of Alevel that do Pan´s Lab. The glossary is in Spanish and students have to write the translations in the space providaded. It includes a detailed list of vocabulary for the different scenes in the film. It also includes an information sheet for essay structure and a section for parents/carers to fill in when testing their children. I have printed it in A5 and my students have absolutely loved it. I made it for our AS this year but have given a copy to the A2 too. The A2 have found it useful to revise the vocab. Goes really well with my Pan´s Lab MAT, which you can find in my shop :) on TES. You will find the link in my blog :)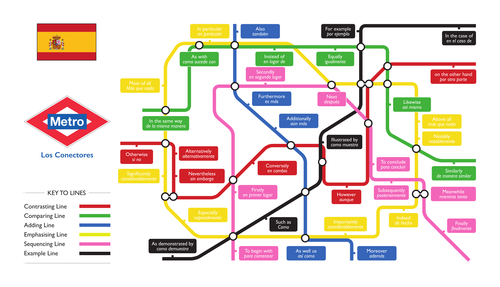 A bright and colourful display that: Helps pupils 'get started' and structure their communication Is divided into categories so pupils can make appropriate language choices and vary their writing Helps pupils to start to make more complex arguments/reasonings in Spanish Deviates from the uninspiring 'list' format to engage all English Underground plus SEN-friendly versions also available (see my other resources) French Metro version also available (see my other resources) Vector-based PDF: This means the file can be printed at any size to a high quality Could form the basis of a pair activity on tables, printed on A4 Could be a huge corridor display! Created by an experienced English teacher and Literacy coordinator (with input from a native Spanish speaker!), in collaboration with an industry-leading Graphic Designer. Contact me if you would like me to print to any size this on your behalf - price on request