Bekki Sayler's Shop
Homeschooling mom of five sons with over 18 years experience teaching and creating learning materials.
73Uploads
8k+Views
258Downloads
Homeschooling mom of five sons with over 18 years experience teaching and creating learning materials.
Studying geology this year with your students? These Earth Science and geology mini lessons are meant as a companion to all of the various topics your students will explore this year. Geology and Earth Science in general are fascinating and engaging. I hope your students enjoy these activities! Topics covered: Composition of the Earth: layers including core, outer core, mantle and crust, Rocks: metamorphic rock, igneous rock, sedimentary rock, and the rock cycle, minerals and all their glory, plate tectonics and oreos, weathering/erosion/deposition, glaciers, mountains: fold, fault-block, and volcanics, topography, topographical maps, volcanoes: cinder, composite, shield and lave dome, and earthquakes, and video records 11 Mini lessons and Activities Included Layers of the Earth (5 pages) Layersof the earth reading Label the layers of the earth worksheet Layers of earth poster labeled Layers of the earth poster unlabeled Layers of the Earth writing paper: Teacher created prompt. Rocks (6 pages) The Rock Cycle reading Rock Cycle poster Rock Cycle Writing Label rock cycle (color and black and white) Types of Rocks Minerals (4 pages) About Minerals reading Mineral mini booklet Minerals foldable Types of minerals Writing Plate Tectonics (6 pages) About Plate tectonics reading (2 pages) Oreo Lab: plate tectonics (2 pages) Plate tectonics Word search and answer key (2 pages) Weathering , Erosion, Deposition (7 pages) Weathering Reading Erosion Memory Game Weathering writing Glaciers (4 pages) About Glaciers Reading Glaciers foldable Soil About soil reading Soil mini-booklet Soil profile reading Label soil Mountains (5 pages) Mountains reading Mountain vocabulary Mountain feature foldable Mountain word search and answer key Topography (4 pages) Topography reading Topography writing Topography internet activity and questions Volcanoes (5 pages) Volcano reading Volcano vocabulary Ring of fire Volcano in a cup lab Volcano writing Earthquakes (5 pages) Earthquake reading Earthquake questions Earthquake project and rubric Make a seismograph project Video record sheet
Embrace the Force. Kids of all ages love Star Wars. These Star Wars themed activities will grab your kid's attention. 16 Multiplication Activities Included Bubble in the multiple pages for 2, 3, 4, 5, 6, 7, 8, 9, 10, 11, and 12's Multiplication Tables Multiplication Targets Multiplication Target Blank Multiplication: Bar Graph Mastering 3rd grade Multiplication Perfect for substitutes Excellent math fact practice
Renewable Energy: These mini lessons and activities bring your earth science unit about renewable energy to life. Topics covered: Energy, renewable energy, biomass energy, geothermal energy, hydroelectric energy, solar energy, wind energy, and wave and tidal energy. 15 Mini lessons and Activities Included • Energy • U.S. Consumption Graph and questions • Renewable Energy Foldable • What is Biomass Energy • Biomass Energy Reading Comprehension • Geothermal Energy Reading and Word Search • Hydroelectric power • Solar power • What can be powered by the sun? • Wind power • Wave and tidal energy • The Turbine • Solve Our Energy Crisis • Video Response • Memory Game
3rd Grade Christmas Christmas coloring activities delight most students. These bookmarks and coloring pages use Christmas Zentangle designs and make beautiful keepsakes and gifts. Great for k-4th Grade Great class party prizes, gifts, activities, substitute activities, homeschool and more 24 3rd Grade Christmas Bookmarks: Includes Christmas Bookmark Ornament Zentangles Christmas Bookmark Ornament Zentangles blank Christmas Bookmark Candy canes =Christmas Bookmark Gingerbread men Christmas Bookmark Stockings Includes a complete "for you" set as well! Christmas Coloring pages Ornaments Candy canes Stockings Gingerbread
All young children need to master fine motor control to equip them for handwriting, math, and more. Some of the Activities: Fine Motor Skills: 4 lacing cards Fine Motor Skills: 2 "Make Your Own" Fold-able Clocks- Lift the flap to see how to read the minute hand more clearly. Fine Motor Skills: 6 Circle Time Tracing and shading Task cards Fine Motor Skills: 24 Scissor Skills Task Cards including fall, winter, spring, and holiday themes! Perfect for centers, homeschoolers, group activities, and quiet time.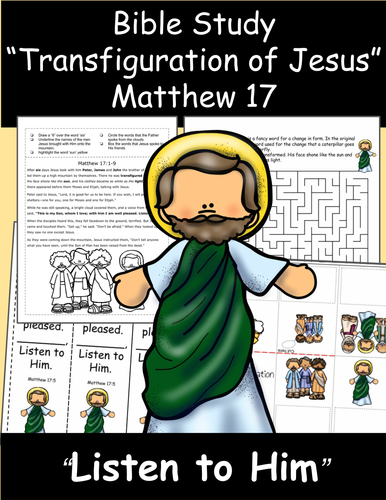 Matthew 17 and the Transfiguration of Jesus. This important passage in scripture shows us that Jesus is not that same as you and I. He is the Son of God. As he is transfigured, Peter puts his foot in his mouth again. I love Peter. I can relate to his humanity. In the end, the Father tells us that Jesus is His Son and we are to listen to Him. What an important lesson! Activities included: Matthew 17:1-9 Active reading. Foldable booklet activity Transfiguration maze Bookmark with the reminder to Listen to Him. coloring pages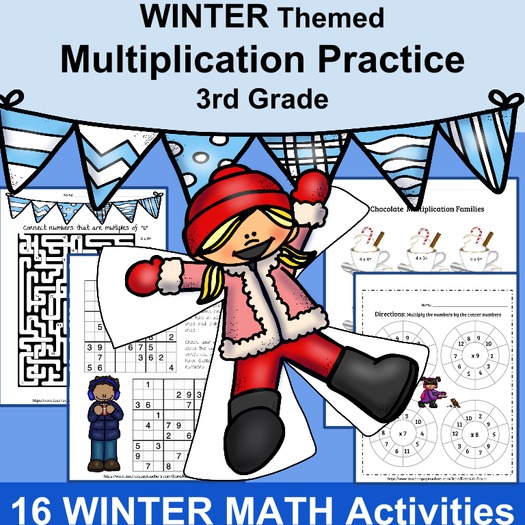 Kids need to master those multiplication facts! These Fun Math worksheets are all centered around 3rd Grade multiplication practice and mastery. 16 No PREP 3rd Grade Math-Multiplication Activities Included in this pack: Mazes solved with multiples Sudoku puzzles -Hot Chocolate Multiplication Families Answer Keys Included
What will your kids choose? In this activity, kids have to choose between winning $250,000 cash and a penny doubled every day for 31 days. Most people will choose the $250,000, even adults. Many people know that $250k is a lot of money and they would rather have that in their hands today, rather than to wait to see what the outcome is after doubling a penny for 31 days. What a fun activity. This is an excellent lesson in delayed gratification. 5th Grade Math-Multiplication Kids will explore the concept of doubling numbers. Answer Keys Included
Redwall Activities for Literature Brian Jacques said, "In our imaginations, we can go anywhere. Travel with me to Redwall in Mossflower country." 7 Extention Activities for your students as they fall in love with the characters from Brian Jacques' Redwall. Included: Characters of Redwall Compare and Contrast Characters Feasting at Redwall Make a Redwall Menu Coat of Arms Reading Make a Coat of Arms Craft Text Matthias
TEXT WARS GAME Teach Teenage driver the dangers of texting and driving with this hands on game and group activity Game Play: 2 hours or spread out over two sessions Drivers Ed: TEXT WARS GAME: Phase one- 30 Minutes have head to head battles to determine the fasted texter in the group Using "text This" Task cards, students go head to head to determine who is the faster texter. The goal of this phase is for teens to let their guard down and simply exercise their texting ability. Each player is timed while texting until all players have at least 4 text times recorded. Drivers Ed: TEXT WARS GAME: Phase two- 30 Minutes Drivers Ed: TEXT WARS GAME: But what if you were driving? How far would you have traveled without looking at the road? Each player follows directions to convert their texting times into road distances for both 30 and 60 MPH driving speeds. The fact that you travel a very significant distance is quite a shock at first. Drivers Ed: TEXT WARS GAME: Phase Three- 60 minutes Drivers Ed: TEXT WARS GAME: How far is that in real life? Could anything bad have happened? Taking the phase two sheets outside the consequences of texting and driving become very real. Students will measure their longest texting time/distances and then roll the dice. They then have to walk the distance blindfolded. When they reach the finish-line, then ge to reveal their road hazard (determined by the roll of the dice). This is quite a rude awakening. This game includes: Drivers Ed: TEXT WARS GAME: Directions for all phases Drivers Ed: TEXT WARS GAME: text task cards Drivers Ed: TEXT WARS GAME: score sheets Drivers Ed: TEXT WARS GAME: road hazard cards Drivers Ed: TEXT WARS GAME: Driving contract Drivers Ed: TEXT WARS GAME: No TEXT Zone Promise Coupons
Mastering divisibility sets students up for success in higher math. This Thanksgiving themed set uses divisibility rules to help 5th graders (Or anyone needing extra practice) practice this important skill. These Thanksgiving jokes are solved with basic rules of divisibility. Divisibility Rules: Quick Reference Jokes: What Side of the Turkey has the Most Feathers? Solved with Multiples of 3 What are Unhappy Cranberries called? Solved with multiples of 4 If Pilgrims were alive today, What would they be most famous for? solved with multiples of 5 and 9 What is at the end of Thanksgiving? Solved with Multiples of 9 What did the turkey say to the computer? What sound does a limping turkey make? When do you serve tofu turkey? Why do pilgrims pants keep falling down? Color by Divisibility Turkeys Divisibility Chart
3rd Grade Christmas: Activities Included in this pack: Jesse Tree Explanation Jesse Tree daily readings Jesse tree ornaments for flip book Jesse tree ornaments for tree Jesse tree Christmas Chain Countdown Advent: 2014 Advent calendar Advent: : Advent pieces Advent: Blank Advent Calendar (any year) Advent: Christmas countdown chain activity Advent: Week one reading Advent: Week two reading & activity Advent: Week three reading Advent: Week four reading Advent: Christmas eve reading Advent: Language: Missing parts of words Advent: Writing: Diamante poem about Jesus Advent: Math: Fact families Advent: Math: Pie Graph Advent: Maze: Help Joseph and Mary find Bethlehem Advent: Maze: Help the wise men find Jesus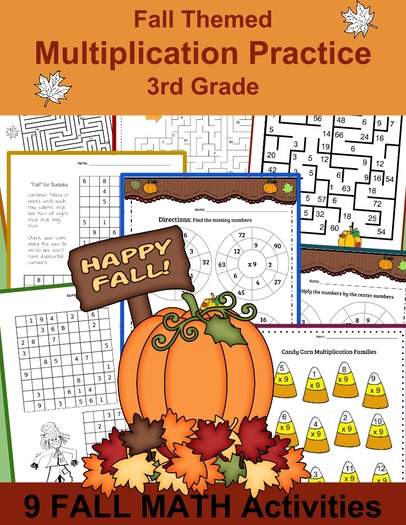 3rd Grade Math: Fall Multiplication Worksheets: Mazes: Sudoku: Target Math These Fun Math worksheets are all centered around 3rd Grade multiplication practice and mastery. 9 No PREP 3rd Grade Math-Multiplication Activities Included in this pack: 3rd Grade Math: Multiplication- Mazes solved with multiples 3rd Grade Math- Sudoku puzzles 3rd Grade Math: Multiplication-Candy Corn Multiplication Families Answer Keys Included
Happy Mother's Day Craft Adorable flower pot template with "fold and cut" flowers Mother's Day Craft: 10 all About Mom pages Mother's Day Craft: Video Preview! Preview the craft here! Perfect for Gift for Mom this Mother's Day Kids of all ages will love giving mom this heart felt gift for Mother's Day (Grandma pages included as well!) Includes: Mother's Day Craft templates direction with photos 10 customizable booklet pages cut and paste activities scissor skill practice creative writing games and more
Daniel 1 provides kids with the example of pre-determining their behavior. Daniel "purposed in his heart" to keep himself pure before the Lord. The focus of this packet is to learn that we can decide in advance to love the Lord and to live clean lives. Activities include: What does your name mean? Your New name Daniel 1 reading and fill in the blank page "What's in a name" activity Purposing in your heart Memory verse activity Take home puzzle Take home bracelet
Daniel 4: King Nebuchadnezzar's Tree Dream A Lesson in Pride and Humility King Nebuchadnezzar's Tree dream is warning that his pride will be his fall. The king refuses to accept that God is the one who put him into power and as a result ends up going mad for 7 years. When he finally humbles himself and raises his eyes toward heaven his sanity is returned and he praises the Lord. This packet includes everything you need to present this Bible Story to kids ages 4-10. Included Lesson Plan Folder cover Story board Pieces King Paper Bag Puppet Template MAD King Paper Bag Puppet Template Finger Puppet Take Home Story Board sheet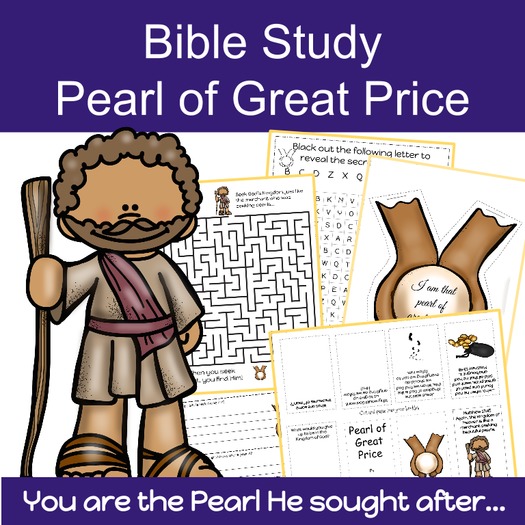 Parables were a powerful tool that Jesus used to teach about Him and the way we should live our lives. The pearl of great price is exactly one of those parables. Jesus is the merchant purposefully looking for his "pearls". This Bible Study give kids the ability to understand that Jesus sought them out personally. This Bible Study includes: ~Introduction survey about treasure ~What would you do if you found your treasure ~Pearl of Great Price Writing booklet ~Pearl of Great Price foldable (cut and paste) ~Comprehension/discussion questions ~Black out word search ~Maze
11 Jokes Solved with Multiplication 3rd Grade Math: single digit multiplication to solve Fall Themed Jokes Multiplication worksheets for 3rd Grade: Making math fun Fall Themed Halloween Themed 3rd Grade: Mastering Multiplication Perfect for substitutes Excellent math fact practice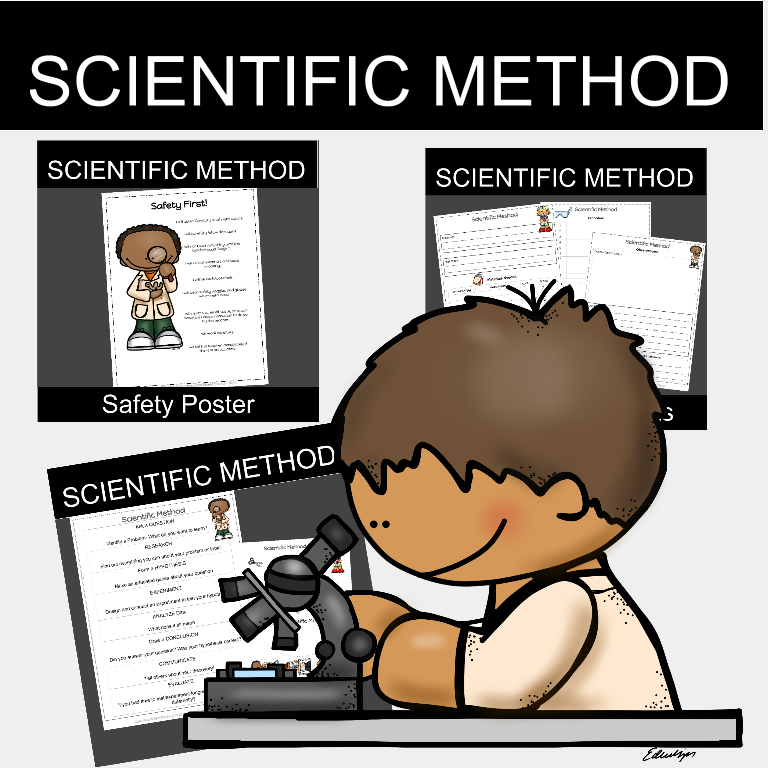 The scientific method is the cornerstone of science. As your students explore their world, teach them the skills to evaluate what they are learning. The scientific method is not just a step by step procedure, but a way of problem solving! Included Scientific Method Notebook Poster Question, Hypothesis, and Materials Sheet Procedure Sheet Observation and Conclusions Sheet Scientific Method Wheel Craft Safety First: Safety rules Simple Language Sheets for Younger Students: Scientific Method Notebook Poster Question, Hypothesis, and Materials Sheet Procedure Sheet Observation and Conclusions Sheet
Magic Tree House: Extension Activities for Dinosaurs Before Dark for 2nd-4th graders Activities include: Magic Tree House: check list for all Magic tree house books Magic Tree House: crossword puzzle Magic Tree House: mapwork Magic Tree House: make a word activity Magic Tree House: make a prediction Magic Tree House: sequencing the story Magic Tree House: maze Magic Tree House: KWL Chart about Dinosaurs Magic Tree House: Search the text Activity