Bekki Sayler's Shop
Homeschooling mom of five sons with over 18 years experience teaching and creating learning materials.
73Uploads
5k+Views
188Downloads
Homeschooling mom of five sons with over 18 years experience teaching and creating learning materials.
Letter writing is a rewarding way to encourage kids to grow in their writing. This pack includes everything you need to create a writing lesson that all of your students will love. These write, decorate, cut, fold and go letters are meant to be written and then stored for a future date. Adaptable for grades K-12. For younger students you will want to allow them to dictate the letters to you. Older students will benefit from going through the writer's process. Regardless, these keepsake letters will be priceless! Inside you will find everything you need to create a successful writing center, writers workshop, or guided writing practice. 11 Letter Templates: *My wish-list for this School Year *To "My High School Graduate Self" *Happy 18th Birthday *My First Car *My Favorite Things *My Life Dreams *Happy 21st Birthday to Me *Getting Married *Congratulations: We are Parents! *My Bucket List *Blank Also Included: Brainstorming Worksheets Rough Draft template Letter to parents Skills Learned and Applied Friendly Letter Format Letter writing Penmanship Writers process Creative writing
As student studies medieval Australia and the Aborigines people they will love learning about and making their own boomerangs! This pack include: a close reading about boomerangs Reading comprehension questions copy-work how to make a paper boomerang link how to make a duct tape link
Bring cell division to life with this hands on activity. Students assemble their own cell cycle booklet that shows cell division in motion. Cell Division: Biology, Life Science, Cell Cycle, Cell Division, Mitosis Extension Activities. Great hands on activity to explore cell division. Cell Division: 4 Cell Cycle booklets Cell Division: Animal Cell Cycle: Mitosis Color Cell Division: Animal Cell Cycle: Mitosis Black and White Cell Division: Plant Cell Cycle: Mitosis Color Cell Division: Plant Cell Cycle: Mitosis Black and White Includes: Cells: 2 Color Posters: Animal Cell Cycle and Plant Cell Cycle Cells:Animal Cell: Label the organelle worksheet Cells:Plant cell: Label the Organelle worksheet Answer keys included Great extension activity. Cell Division: When the fold-able booklet is assembled, the student can "flip" the pages of their booklet to see a simple animation of cell division. Keywords: Cell division, mitosis, cell cycle
21 Movie/video Response MEGA Pack Printables Looking for a fun, open ended way to assess what a student learns during a movie? These movie response worksheets help your student respond to and interact about any video or movie! Literacy activity, literacy centers, homework, homeschooling Use these printables to help your student pull the core of the message from the movie. Choose your focus: Movie: free write/ response Movie: comprehension questions Movie: vocabulary development Movie: setting Movie: plot Movie: characters and more.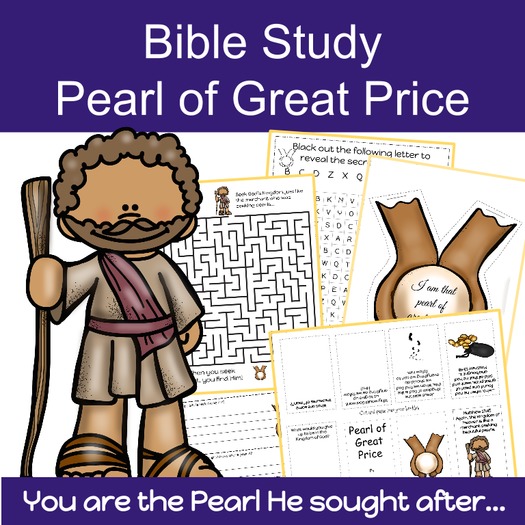 Parables were a powerful tool that Jesus used to teach about Him and the way we should live our lives. The pearl of great price is exactly one of those parables. Jesus is the merchant purposefully looking for his "pearls". This Bible Study give kids the ability to understand that Jesus sought them out personally. This Bible Study includes: ~Introduction survey about treasure ~What would you do if you found your treasure ~Pearl of Great Price Writing booklet ~Pearl of Great Price foldable (cut and paste) ~Comprehension/discussion questions ~Black out word search ~Maze
Magic Tree House: Extension Activities for Dinosaurs Before Dark for 2nd-4th graders Activities include: Magic Tree House: check list for all Magic tree house books Magic Tree House: crossword puzzle Magic Tree House: mapwork Magic Tree House: make a word activity Magic Tree House: make a prediction Magic Tree House: sequencing the story Magic Tree House: maze Magic Tree House: KWL Chart about Dinosaurs Magic Tree House: Search the text Activity
Embrace the Force. Kids of all ages love Star Wars. These Star Wars themed activities will grab your kid's attention. 16 Multiplication Activities Included Bubble in the multiple pages for 2, 3, 4, 5, 6, 7, 8, 9, 10, 11, and 12's Multiplication Tables Multiplication Targets Multiplication Target Blank Multiplication: Bar Graph Mastering 3rd grade Multiplication Perfect for substitutes Excellent math fact practice
Studying geology this year with your students? These Earth Science and geology mini lessons are meant as a companion to all of the various topics your students will explore this year. Geology and Earth Science in general are fascinating and engaging. I hope your students enjoy these activities! Topics covered: Composition of the Earth: layers including core, outer core, mantle and crust, Rocks: metamorphic rock, igneous rock, sedimentary rock, and the rock cycle, minerals and all their glory, plate tectonics and oreos, weathering/erosion/deposition, glaciers, mountains: fold, fault-block, and volcanics, topography, topographical maps, volcanoes: cinder, composite, shield and lave dome, and earthquakes, and video records 11 Mini lessons and Activities Included Layers of the Earth (5 pages) Layersof the earth reading Label the layers of the earth worksheet Layers of earth poster labeled Layers of the earth poster unlabeled Layers of the Earth writing paper: Teacher created prompt. Rocks (6 pages) The Rock Cycle reading Rock Cycle poster Rock Cycle Writing Label rock cycle (color and black and white) Types of Rocks Minerals (4 pages) About Minerals reading Mineral mini booklet Minerals foldable Types of minerals Writing Plate Tectonics (6 pages) About Plate tectonics reading (2 pages) Oreo Lab: plate tectonics (2 pages) Plate tectonics Word search and answer key (2 pages) Weathering , Erosion, Deposition (7 pages) Weathering Reading Erosion Memory Game Weathering writing Glaciers (4 pages) About Glaciers Reading Glaciers foldable Soil About soil reading Soil mini-booklet Soil profile reading Label soil Mountains (5 pages) Mountains reading Mountain vocabulary Mountain feature foldable Mountain word search and answer key Topography (4 pages) Topography reading Topography writing Topography internet activity and questions Volcanoes (5 pages) Volcano reading Volcano vocabulary Ring of fire Volcano in a cup lab Volcano writing Earthquakes (5 pages) Earthquake reading Earthquake questions Earthquake project and rubric Make a seismograph project Video record sheet
Insects cannot be explored without studying the queens of insects: honeybees! Everything your students need to dive into learning about Honeybees. These industrious insects are fascinating to study when exploring the wonderful world of Insects. This unit is included in my Insect Bundle! No Prep: Just print and go! Studying Insects and/or Bees? These 24 Activities are a great companion. A great stand alone unit, or complement to an existing unit. Have Fun! Insect Activities Included Bee Science KWL Chart about Bees About "Honeybees" Nonfiction Reading Honeybees: Reading and Comprehension Questions Anatomy of a Honeybee Draw a Honeybee Life Cycle of a Honeybee Honeybee Hive Reading KWL Chart: Honey Uses for Honey Activity Queen Honeybee Reading and Questions Worker Honeybee Reading and Maze Bee Sting Bee Writing "Life of a Worker Bee" Booklet Honeybee Jobs Reference Sheet Cut and Paste Images Template Creative Writing Prompts (Journal writing) Bee Paper Bee Math Hex Maze Hex Fractions Research Activity Extension Activity/Video Response
Teaching kids to cook is an invaluable life skill... but it takes time and commitment. With Cooking Camp 1, you will have everything you need to coach and train your kids to become "experts of their meal" over time. Cooking takes practice. There is no way around that. These are family loved recipes shared from my home to yours. Teach your kids to cook, or simply glean some tried and proved recipes for yourself! Cooking Camp 1 Overview: Children learn one cooking skill and then practice weekly until it is mastered. Once they master a skill, they graduate to the next skill and again practice it weekly until mastered. Objective: Children master food safety, knife skills, shopping, and meal preparation for 6 meals. Chicken wraps, shepherd's pie, chicken divan, sweet potato sloppy joes, baked taquitos, and gluten free pizza. These are current family favorites in our home. Table of Contents: Suiting up Name Tags Setting the Table Food Safety Knife Skills- Foldable Knife Skills- Flip cards Knife Skills Certificate Kitchen Measures Chart Recipes: Includes recipe, shopping list, kitchen jobs, and schedule Chicken wraps Shepherd's Pie Cooking staples: potatoes, sweet potatoes, chicken Chicken Divan Sweet Potato Sloppy Joes Baked Taquitos Gluten-free Pizza
It's back to school time! Once I come to grips with the fact that summer cannot last forever, I fully embrace back to school time! We are all excited to get to know our new students and these icebreaker activities will help your new class get to know each other as well. These ice breaker activities are perfect for the first day of school, after winter break, or even just for fun! Ice breaker Activities included: Classmate scavenger hunt Back to school survey The "Cool Facts Activity" and Bulletin board Decoration How Do I measure up- Get an glimpse into what your students really think and desire for you and your class Self Portrait Classroom Coupons Movie Response sheet
3rd Grade Christmas: Activities Included in this pack: Jesse Tree Explanation Jesse Tree daily readings Jesse tree ornaments for flip book Jesse tree ornaments for tree Jesse tree Christmas Chain Countdown Advent: 2014 Advent calendar Advent: : Advent pieces Advent: Blank Advent Calendar (any year) Advent: Christmas countdown chain activity Advent: Week one reading Advent: Week two reading & activity Advent: Week three reading Advent: Week four reading Advent: Christmas eve reading Advent: Language: Missing parts of words Advent: Writing: Diamante poem about Jesus Advent: Math: Fact families Advent: Math: Pie Graph Advent: Maze: Help Joseph and Mary find Bethlehem Advent: Maze: Help the wise men find Jesus
Density can be an abstract concept to students. This simple and interactive experiment demonstrates density in a fun and unexpected way. n the dancing popcorn experiment, the carbon dioxide in the soda is attracted to and clings to both the kernels and the craisins. The volume of each object is increased (made bigger) by the carbon dioxide. As the volume increases, the kernels and the craisins become less dense than the soda. This causes them to rise tot the surface. At the surface the carbon dioxide bubbles burst and the volume is reduced again. The kernels and craisins sink because they become more dense then the soda. Includes: Lab sheet Video response sheet
Kindergarten Math: Thanksgiving Activities: Color and Identify Numbers How many pumpkins? How many turkeys? How many apples? Adding Pilgrims Adding Pumpkins Hungry Mouths Pumpkins Hungry Mouths Pies Hungry Mouths Turkeys Color, cut, paste Shapes: Pumpkins, Apples, and Turkeys What is next? Turkey's in a line Pilgrims in a line Indians in a line Making 10's with Turkeys Making 10's with apples Thanksgiving:100 Turkeys Thanksgiving: My Thanksgiving Surveys Thanksgiving: Coloring pages
All young children need to master fine motor control to equip them for handwriting, math, and more. Some of the Activities: Fine Motor Skills: 4 lacing cards Fine Motor Skills: 2 "Make Your Own" Fold-able Clocks- Lift the flap to see how to read the minute hand more clearly. Fine Motor Skills: 6 Circle Time Tracing and shading Task cards Fine Motor Skills: 24 Scissor Skills Task Cards including fall, winter, spring, and holiday themes! Perfect for centers, homeschoolers, group activities, and quiet time.
Daniel 4: King Nebuchadnezzar's Tree Dream A Lesson in Pride and Humility King Nebuchadnezzar's Tree dream is warning that his pride will be his fall. The king refuses to accept that God is the one who put him into power and as a result ends up going mad for 7 years. When he finally humbles himself and raises his eyes toward heaven his sanity is returned and he praises the Lord. This packet includes everything you need to present this Bible Story to kids ages 4-10. Included Lesson Plan Folder cover Story board Pieces King Paper Bag Puppet Template MAD King Paper Bag Puppet Template Finger Puppet Take Home Story Board sheet
Daniel 1 provides kids with the example of pre-determining their behavior. Daniel "purposed in his heart" to keep himself pure before the Lord. The focus of this packet is to learn that we can decide in advance to love the Lord and to live clean lives. Activities include: What does your name mean? Your New name Daniel 1 reading and fill in the blank page "What's in a name" activity Purposing in your heart Memory verse activity Take home puzzle Take home bracelet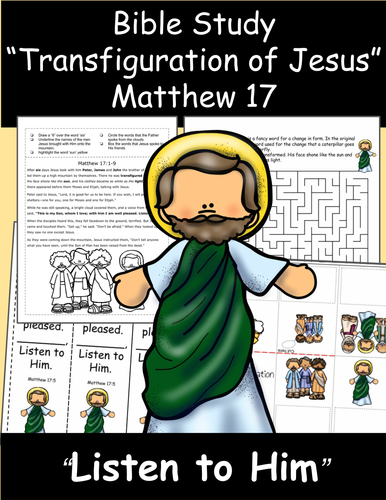 Matthew 17 and the Transfiguration of Jesus. This important passage in scripture shows us that Jesus is not that same as you and I. He is the Son of God. As he is transfigured, Peter puts his foot in his mouth again. I love Peter. I can relate to his humanity. In the end, the Father tells us that Jesus is His Son and we are to listen to Him. What an important lesson! Activities included: Matthew 17:1-9 Active reading. Foldable booklet activity Transfiguration maze Bookmark with the reminder to Listen to Him. coloring pages
Studying the Bible is an important life skill, and yet most people do not know where to begin. Using the SOAP devotional, you will have a solid plan for how to study God's word. S-Scripture. Simply write down the scripture verse you are studying. O-Observe. What is going on in the verse? Who is doing the talking? What are they doing? A-Application. How does this verse apply to me and my life? P-Prayer. Write a pray asking the Lord to make this verse real in your life. Includes template for making SOAP Devotional Complete Instructions 21 Starter Bible Verses
6th Grade Math: Order of Operations: 12 Task Cards 6th Grade Math: Students work backwards from the answer and a set of four numbers. Using the information given, the student (or team) must add the appropriate symbols to solve their task. Included: 12 task cards 4 blank "Teacher Choice" cards Answer Keys PEMDAS Poster Examples
Say it with me: snow, snow, snow, snow, snow, snow!!!!! It is a snow day! Don't we all LOVE Snow Days? This comprehensive packet explores the wonder of snow. Students will discover the various colors of snow, the sounds of snow, the types of snow and more. Kids will explore different types of snow formations, how to survive an avalanche, all about the snowflake enthusiast Wilson Bentley, and more. Perfect for winter, weather, and snow studies in 4th-6th grade. Activities Included in this pack: KWL Chart about snow My Weather Report The color of snow reading Comprehension questions: The color of snow The Sound of Snow reading Sound of snow maze Types of snow reading Fill in the blank: Types of snow Snowfall, Snow-cover, and formations vocabulary (3 pages) Crossword: Snowfall, Snow-cover, and Formations Avalanche Reading Tips to Surviving an Avalanche Flip-able Wilson "snowflake" Bentley? Comprehension Questions: Snowflake Bentley Make paper snowflakes Snowflake Sudoku